Holiday Festivities Recap
Happy New Year, friends! As I am writing this, it's 5:30am on New Year's Day (I celebrated big by having a cup of tea and going to bed at 9:15). There are no traces of Christmas left in the house this morning. It always makes us sad to take it all down, but it feels so good to wake up to a clean house today. We decorate early in November (no shame… it's a lot of work) so we definitely had a good run with our fully decorated house.
November-December is our absolute favorite time of year! The older I get, the faster the holidays seems to come and go. Here is a recap of a few things we did this season…
Christmas Trees- Our kickoff for Christmas included getting our real tree! We always go to the same local lot as soon as they put them out. Jacob enjoyed the experience and got a lot of energy out running between the trees. We also helped Grammy & Grampy pick out their tree this year. 10/10 do not recommend going to tree lots located directly on a busy road with a toddler… we spent most of our time battling a meltdown because he couldn't run free.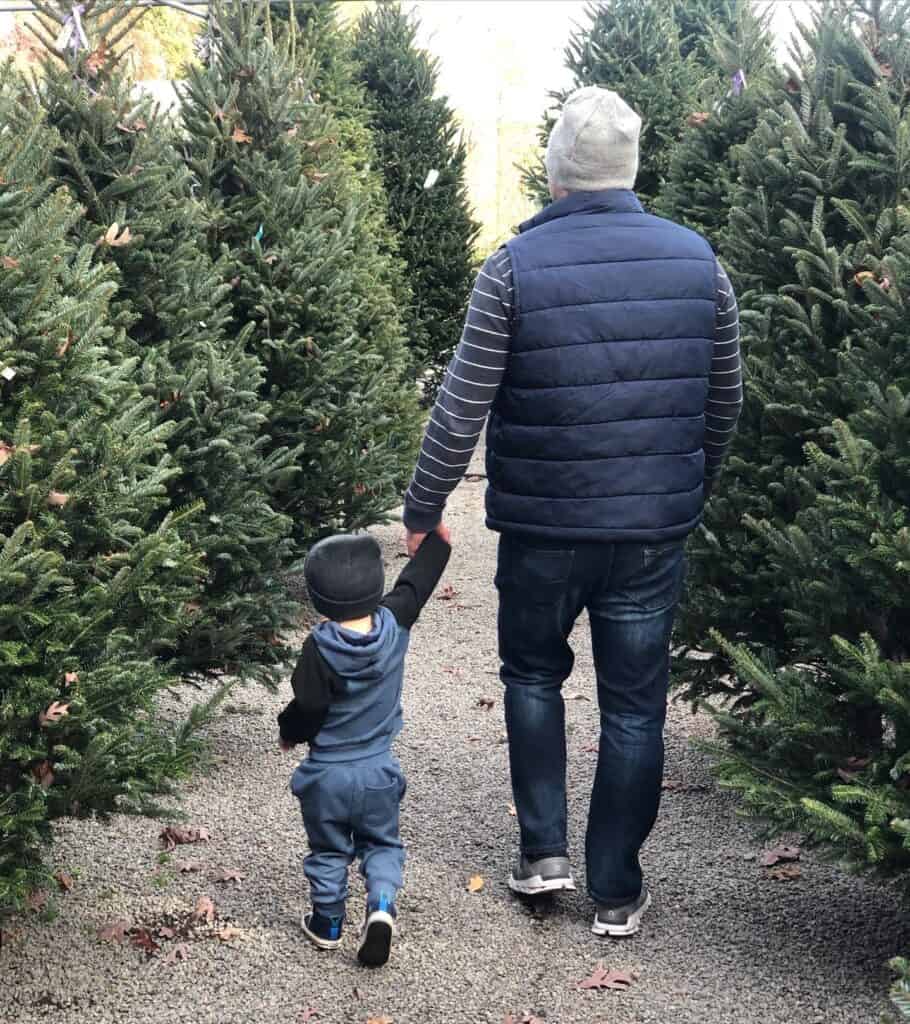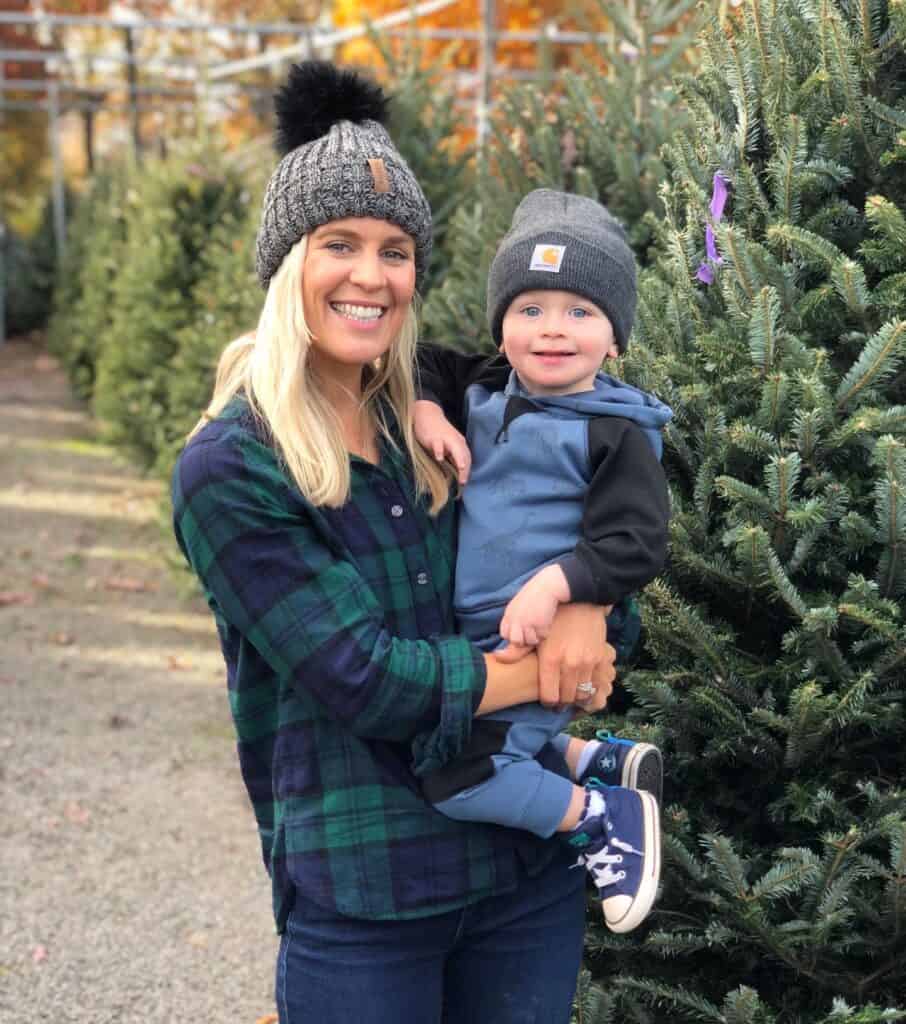 First Santa Visit– It was so special to finally check this one off! We passed on a Santa visit in 2019 (he was only 3 months) and again in 2020 due to the pandemic. I really wanted to make this happen for Jacob this year, but had zero interest in standing in line. When we got a special invite from our friends hosting an exclusive event for their real estate clients, we responded immediately!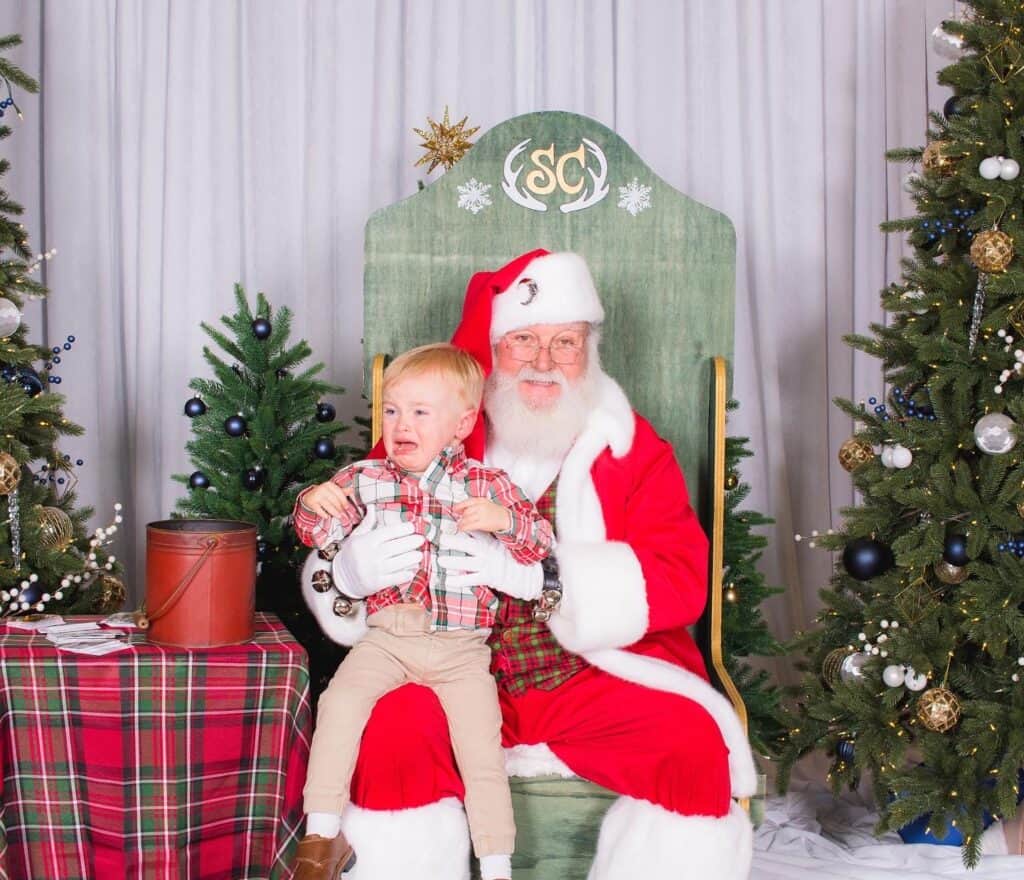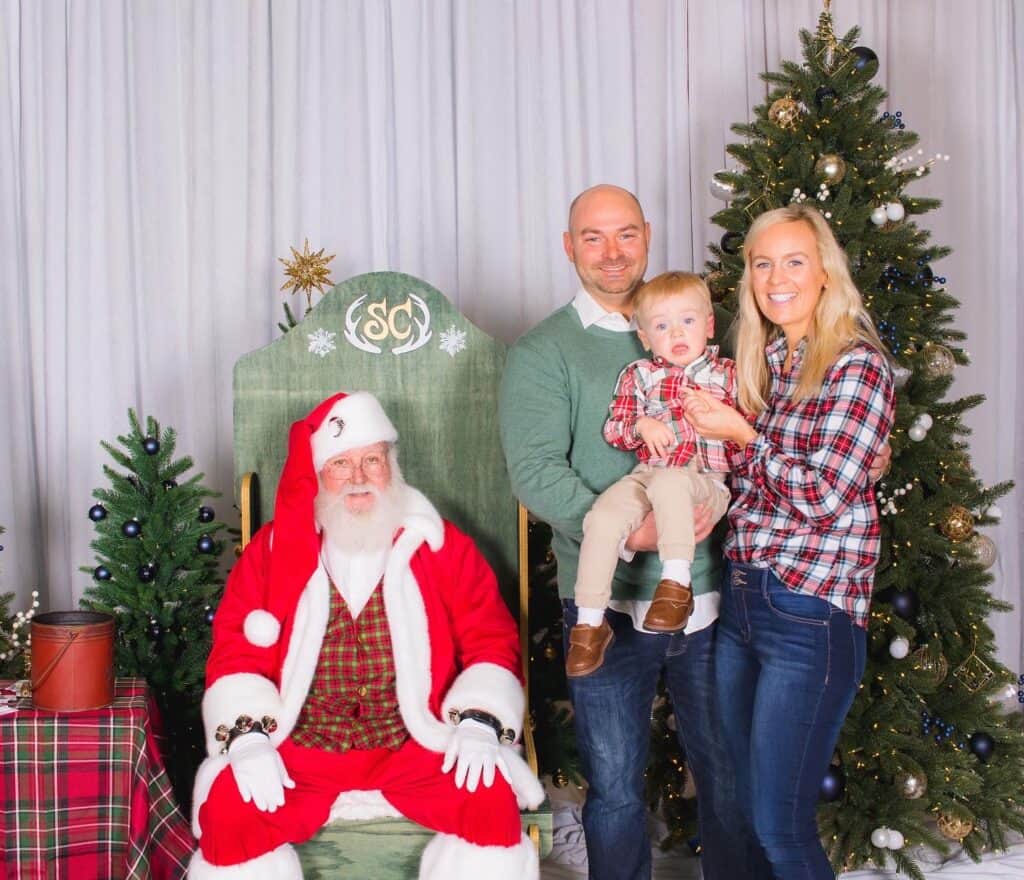 Polar Express/Friendsgiving– We decided at a Halloween party with friends that we would do a fun Christmas event for the kids this year. Since we had over a month to plan ahead, we managed to get a date on the calendar that worked for all of us. And by some miracle, everyone was heathy enough to party together come December 5th. There were 6 kids total and they had a blast. Polar Express played in the background, but I'm not sure any of them actually watched it. They played their hearts out and we managed to actually sit down for a meal together! I hope we can continue this tradition over the years. Jacob absolutely loves a party and it's so much fun to see him play with sweet friends close in age.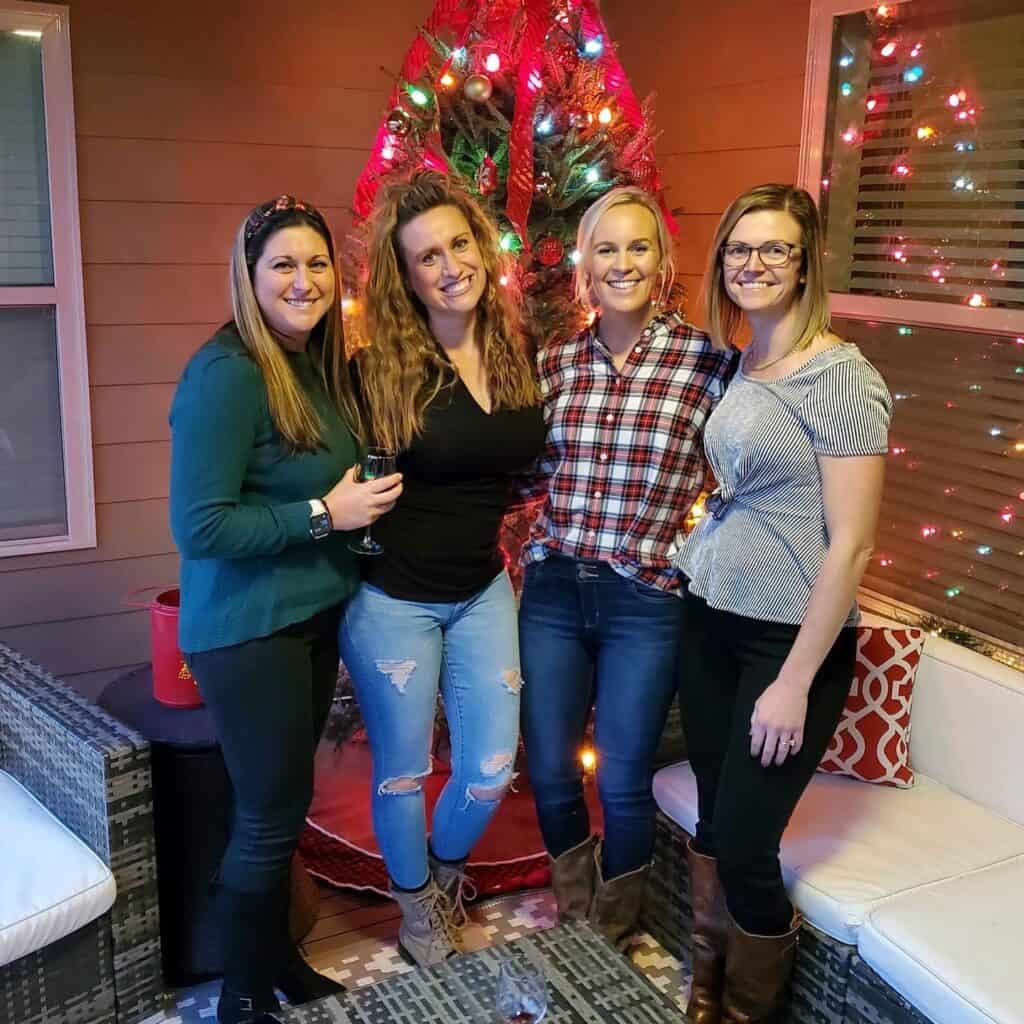 Family Christmas Dinner– Every year my in-laws take the whole family out to a fancy Christmas dinner. They always get the private room so the kids can run free and we are spoiled rotten by this tradition. It's a little nerve wracking to take a toddler to a nice place, but he did surprisingly well and spent most of the meal coloring in my lap. This year they added on a weekend stay at the Ballantyne resort! The hotel was beautifully decorated for Christmas and it was an incredible place to spend time together as a family. Joey and I even got to enjoy spa services… a much needed massage for him and my first facial in at least 7 years. Jacob ended up getting sick, but it didn't spoil his fun at all!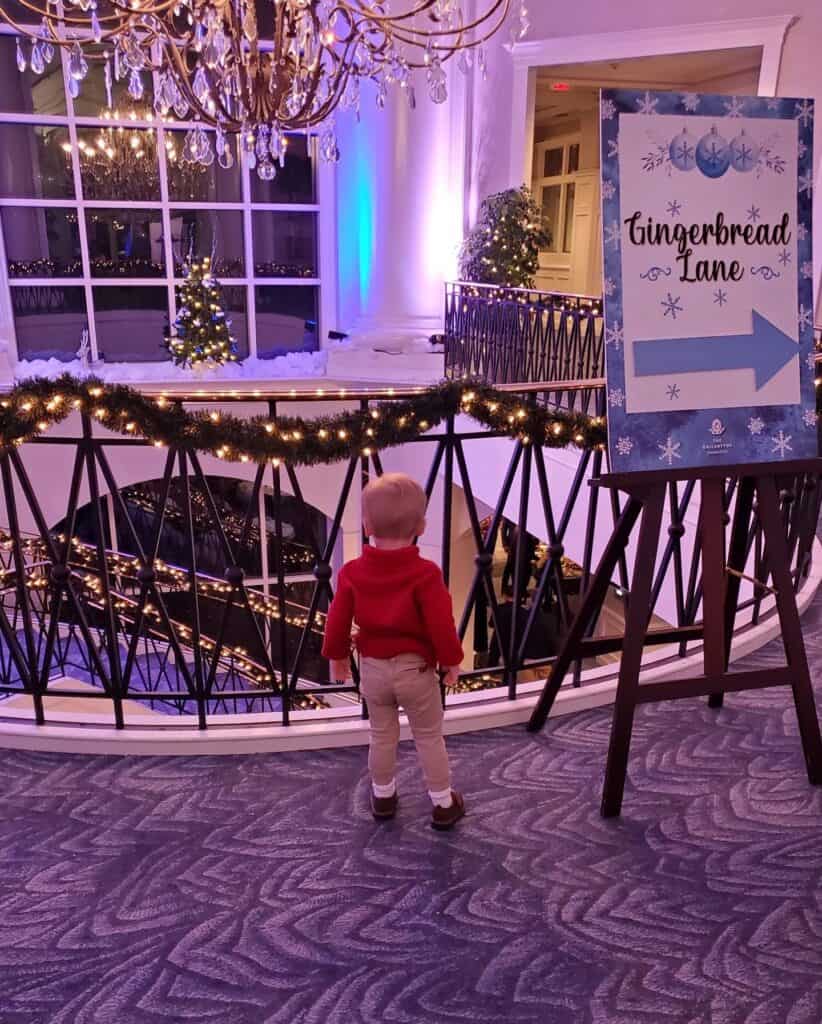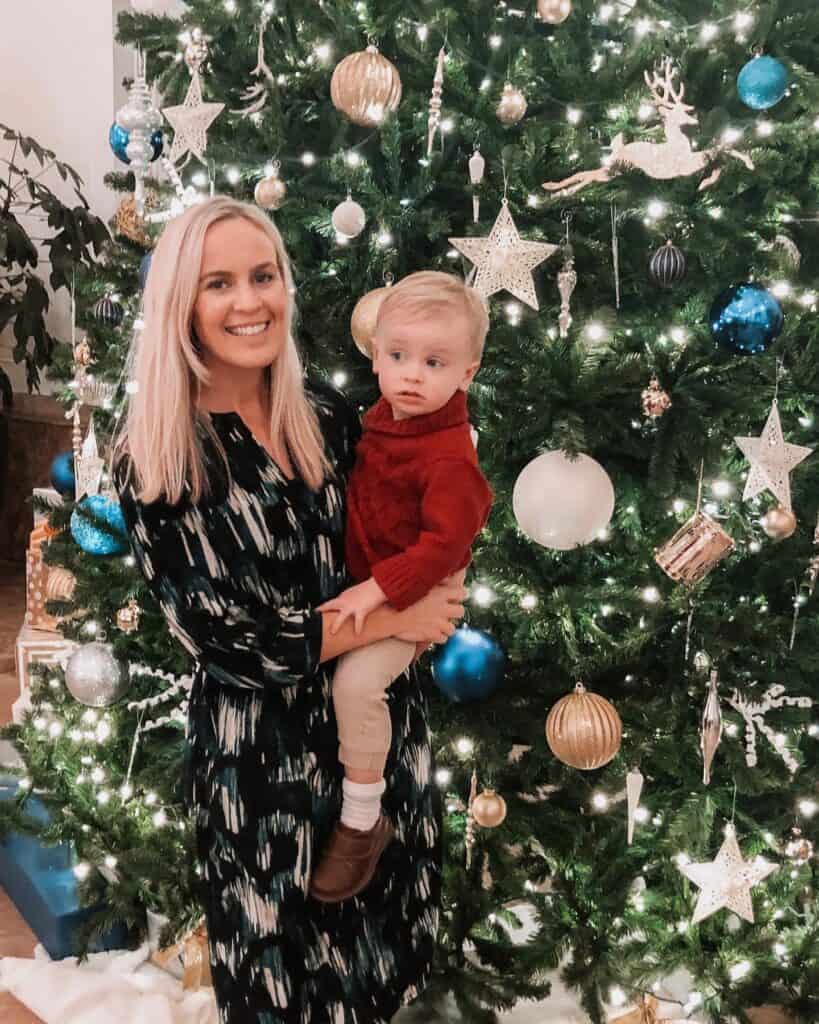 Ugly Christmas Sweater Party– We love hosting a Christmas party for my family and it usually takes place on Christmas Eve. We skipped it in 2019 because we had a new baby and didn't have it in 2020 since everything in life was cancelled that year. We decided to have the party earlier this year and make it ugly sweater. Everyone in my family was able to make it and it made my heart so happy to resume this tradition! We decorated cookies (my sister's delicious sugar cookies), ate pizza (my family is large and easy to please) and enjoyed lots of wine. Elf always plays in the background and since it was 70 degrees that day we even spent some time on the back patio. Jacob loved having everyone here! He can be shy in big groups at first, but by the end of the party he was totally in his element. We had some pretty great sweaters this year…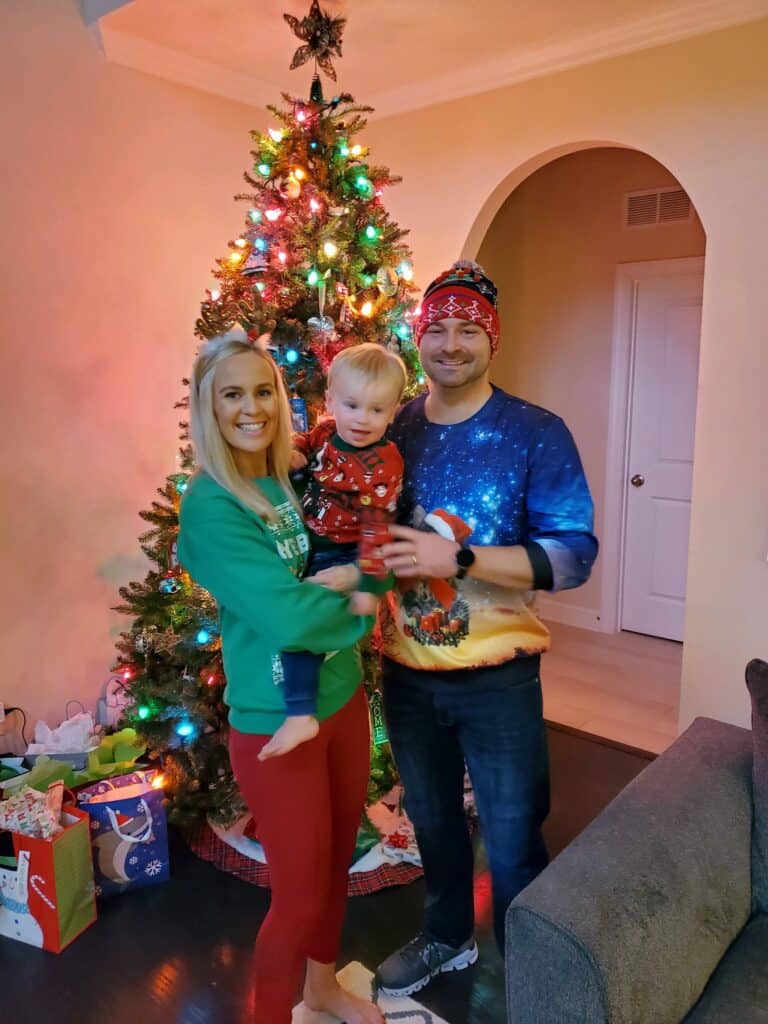 Christmas Lights-I have fond memories of going to see the lights in McAdenville as a child. I would love to take Jacob some day, but for now keeping things simple is what works at age 2. He likes moving cars and I am not down for traffic with him. This year our town put out a map of houses to visit with the best Christmas lights. We bundled up in our Christmas pjs and drove to a nearby neighborhood where several of the houses were located. Joey and I were very impressed by the participation! Our neighborhood does all white lights (except for our house LOL) so it was nice to see a variety and so many colorful lights. Jacob was amazed and I had fun riding with him in the back seat to see his eyes light up. It was the perfect pre-bedtime activity. I look forward to doing this every year…eventually with some hot cocoa in hand! You never grow too old to appreciate Christmas lights.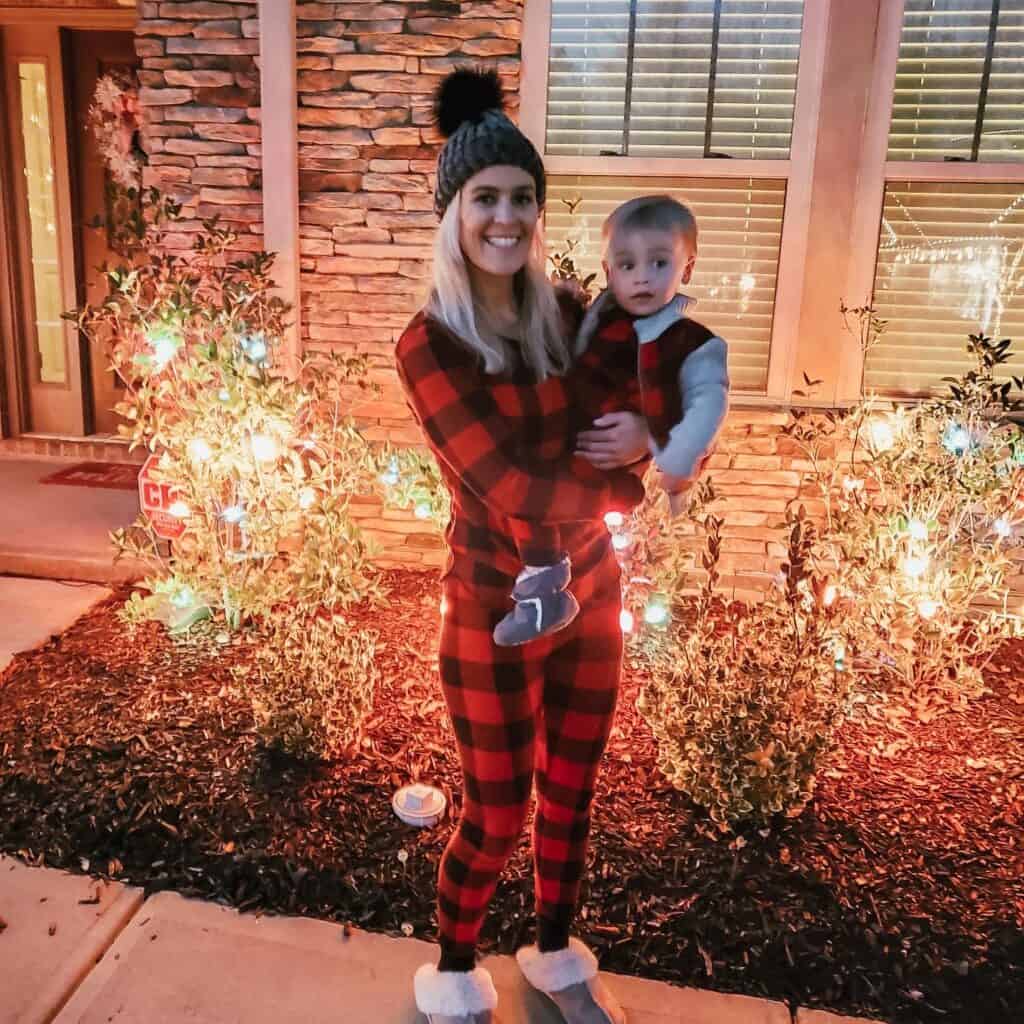 Christmas Day– Santa brought Jacob a kitchen and it was the highlight of his morning. He still doesn't really care about tearing into wrapped presents, but definitely understood the concept more than last year. We had a quiet morning at home before heading off to my mom's house. Her breakfast casserole is a Christmas morning essential. We got to spend time with most of the family before heading home to unload/reload the car to go to my in-law's house. We spent the afternoon exchanging gifts and Jacob had some fun cousin time. He skipped his nap (holidays are impossible) so we made a grand exit, as we often do. Since he went to bed early, we were able to squeeze in a little bit of relaxation on the couch watching a movie before crashing ourselves. It's a very busy day for us, but it's such a blessing to have two big families to share that time with every year.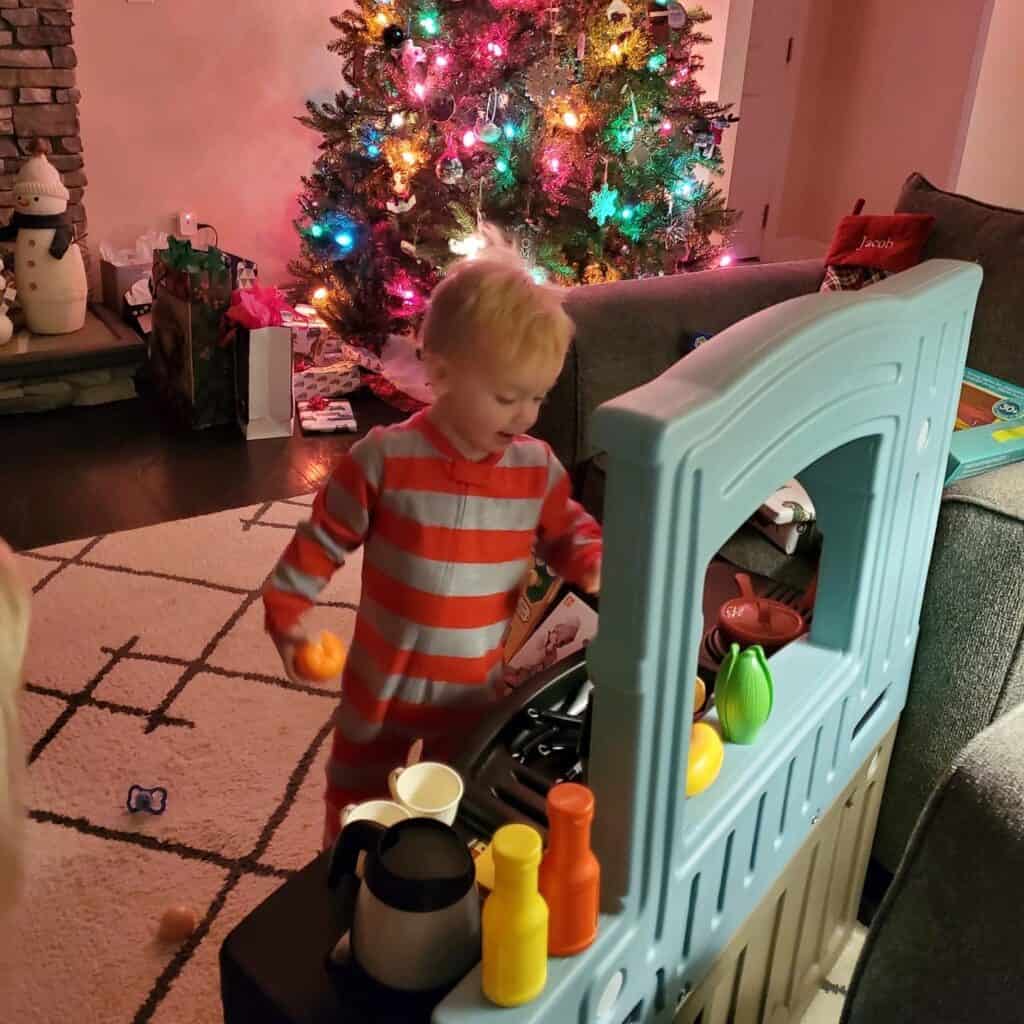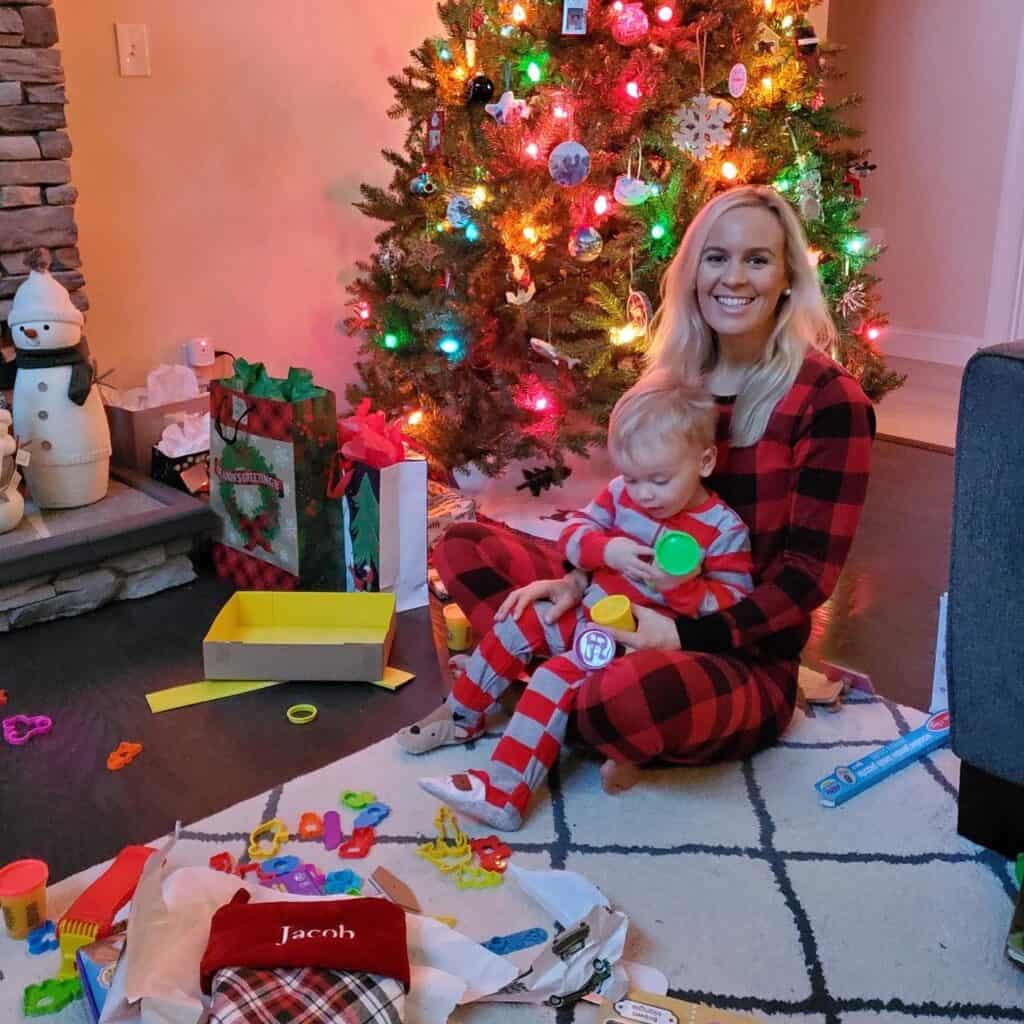 Soup Day– My mother in law makes her amazing ham bone soup the day after Thanksgiving and Christmas. For me, it is my favorite meal of the holidays! It's another chance to catch up with that side of the family and it's always fun to have something to look forward to when Christmas day is over.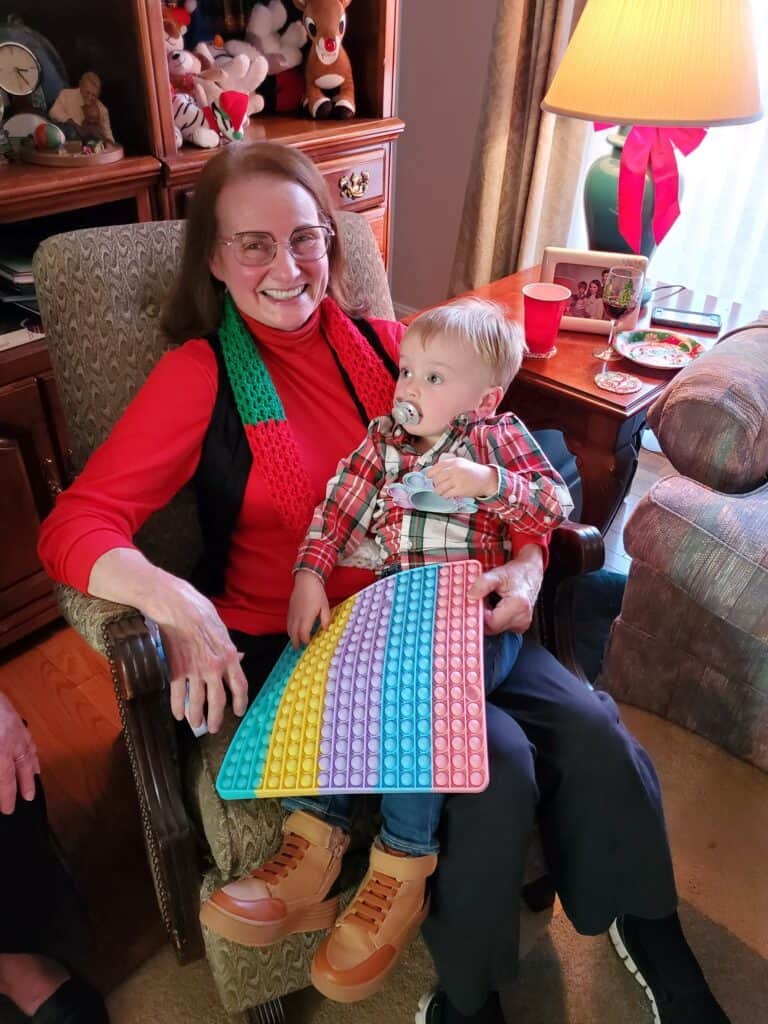 Sister Spa Day- This one has nothing to do with the holidays, but it's a post-Christmas tradition I hope to keep going every year! After discussing a spa day on our mountain trip, I booked us spa services back in November for a day we all had free. We met at the Spa at Rock Barn and it did not disappoint! We had 50 minute massages and spent a few hours enjoying the saltwater pool, hot tubs, and poolside lunch. If you are looking for a fun day with girlfriends, this is the spot. So much of my family time is spent chasing after Jacob so it was really nice to catch up with my sisters and have uninterrupted conversation. I can't wait to go back to this spa!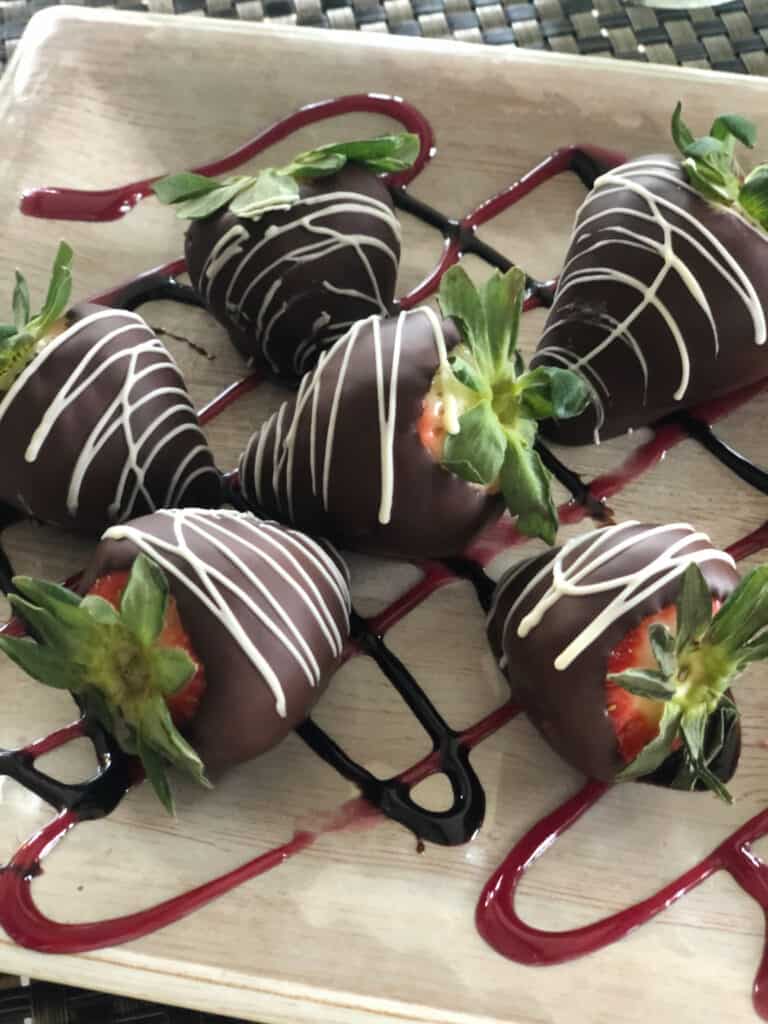 New Year's Day lunch-Today we are off to lunch at my in-laws. Every year we eat a meal for good luck and it's a fun way to kick off the new year together. Luckily Christmas is already put away, so we plan to spend the rest of the afternoon playing outside while it's 74 degrees!
I can't wait to see what traditions we can add in 2022… every day/month/year with Jacob is more fun than the last and I know we have so much to look forward to!
I hope this holiday season was a good one for you and that 2022 brings you hope, health and happiness!
---
---