Pandemic-Friendly Toddler Activities
A list of activities in the Charlotte area to do with your toddlers!
Having a pandemic hit just a few months after becoming a mom has absolutely changed everything in Jacob's first two years of life. It was easy to keep him entertained at home his first year, but as soon as toddlerhood hit we had to start getting creative. Our backyard space has been an absolute haven for us in this time, but we have to get out of the house!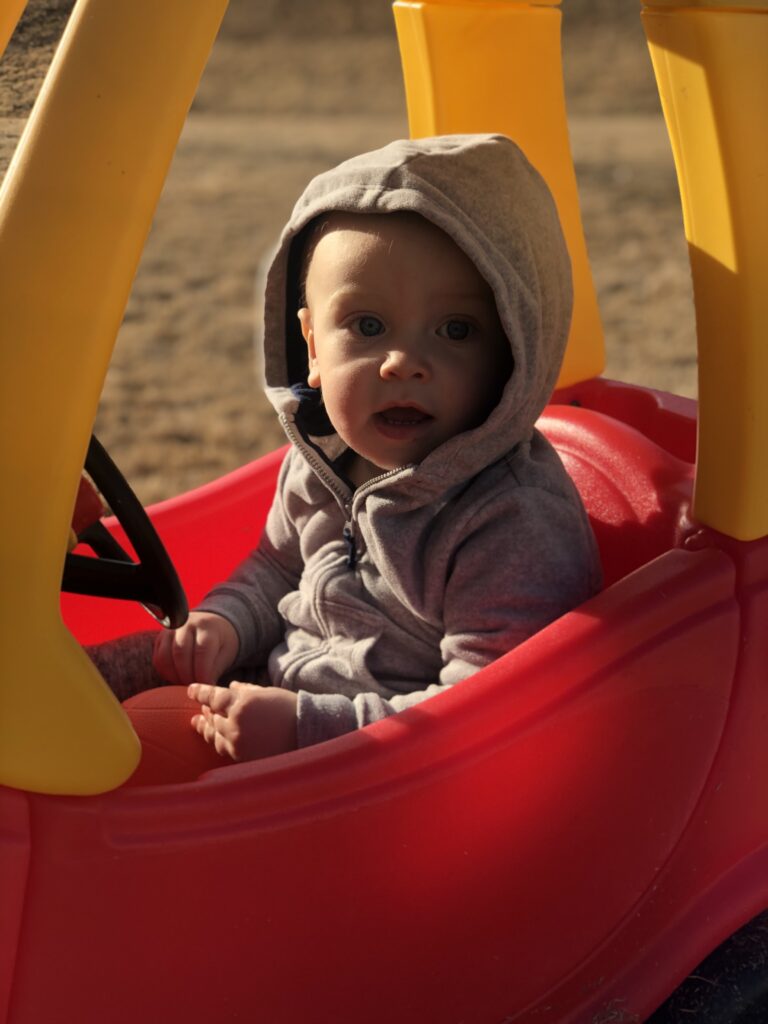 This is a list of my favorite pandemic-friendly activities we have done over the past year. These are all places either in Charlotte or within an hour driving distance that have been a great hit from age 1-2. In a time where you have to think twice about everywhere you bring your little ones, these have all felt like very safe options.
If you have a toddler and are desperate to try something new, I hope at least one of these ideas can help you out!
Sweetwater Farm
This adorable farm is located in Huntersville and is only about 15 minutes from our house. It is an absolute gem for kids! It only costs $5 if you buy tickets online and they even have a season pass available (which we should probably consider doing this year). They are open Wednesday- Sunday from March-November. Jacob wasn't super into it when I took him the first time (in fact the cow scared him), but there has always been something there that he enjoyed!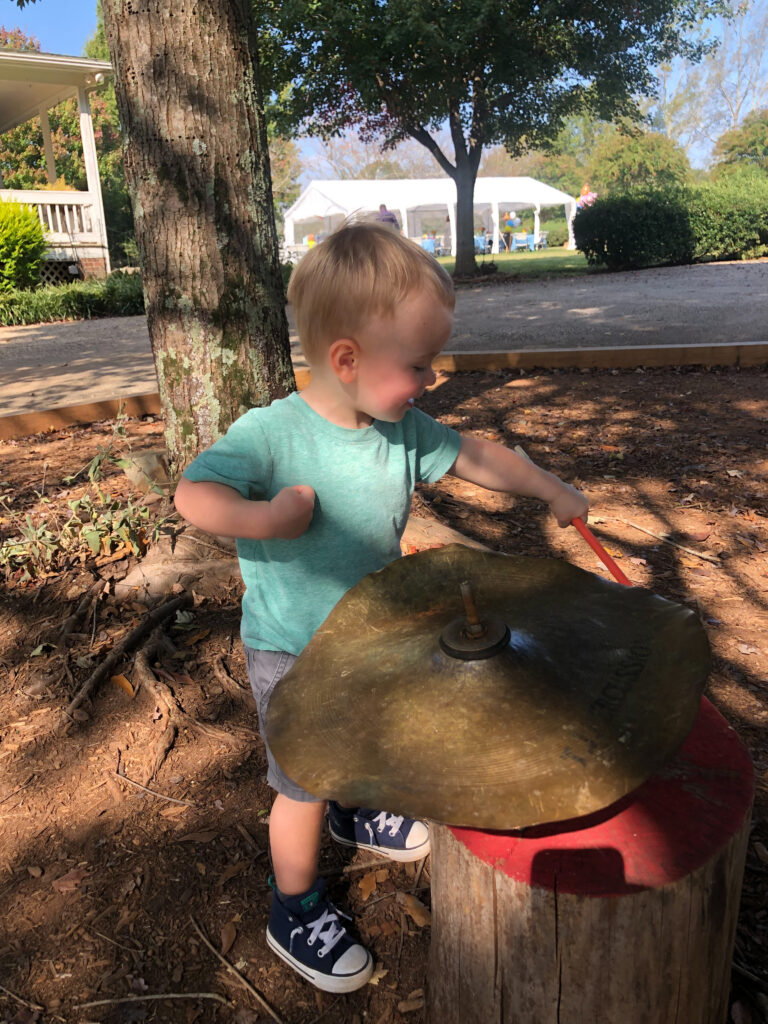 Kids can get up close to horses, a cow, pigs, chickens, goats… all the farm animals! They also have a garden area where kids can basically just play in the dirt- we have mostly steered clear of that area but I have a feeling Jacob will be all about that section at age 2. At the center of this space is an open field full of fun kid entertainment- a playground, obstacle courses, drum set, swings, wagons, bouncy balls… all the fun! This is where we have spent most of our time burning energy. We will be back at this farm as soon as they open!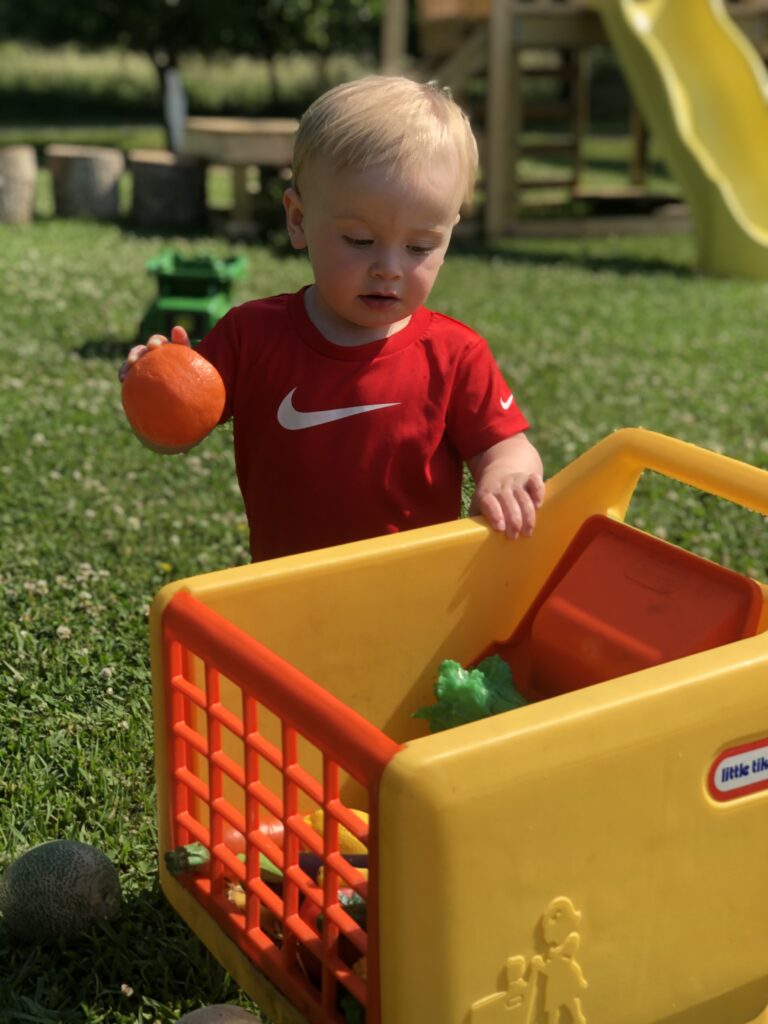 Discovery Place Kids
This amazing museum is only 5 minutes from our house and is truly heaven for kids! Aside from the massive playground, everything here has remained open in the pandemic. Discovery Place has very strict covid protocols in place- masks are mandated for anyone age 2 and up, reservations have to be made online prior to your visit, and the first hour of the day is reserved for members only. We visited this museum about once/week in 2021!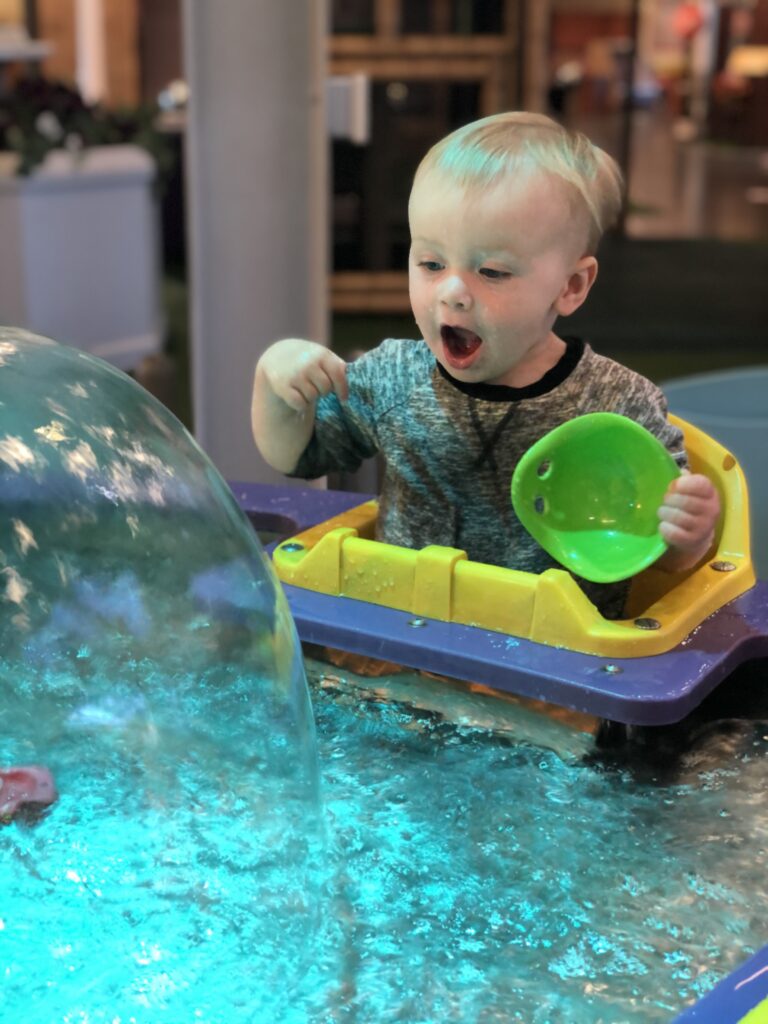 The only downside of this space is that it's very tactile- so even if kids are wearing masks they are in there touching everything. I didn't bring Jacob until we were past that baby phase of putting literally everything in his mouth. Unfortunately, we probably won't be going here any time soon. While I fully support masks, I do feel that age 2 is too young for enforcing them and it's just not a battle I feel like fighting right now (we have enough of them lol).
Jacob's favorite things to do here are play at the water table (if your child plays like mine in water, pack a towel), climb the ship, walk the balance beam, run wild and toss around food in the play grocery store.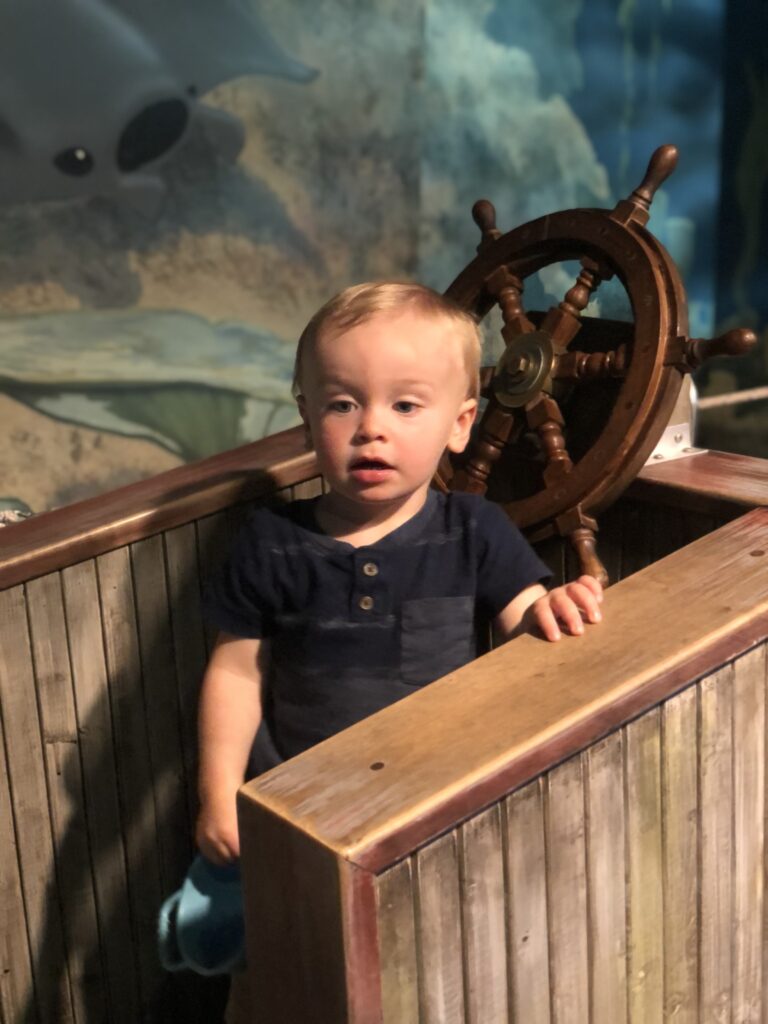 If you have kids under two or old enough to have no issue wearing their mask, put this place on your list!
Clark Creek Splashpad
After checking out a few splash pads last year that were kind of a dud, I was so excited when I found this one so close to home! It's a large space, has tons of sprinkler options and has a soft ground (I can't be the only mom that appreciates that detail). It was the perfect place to burn some afternoon energy last summer when it was too hot to simply play in the backyard and I didn't have the energy for the pool. There are restrooms located right next to the splash pad and there is also a playground nearby. I can't wait to pack our buckets and get back out there this summer!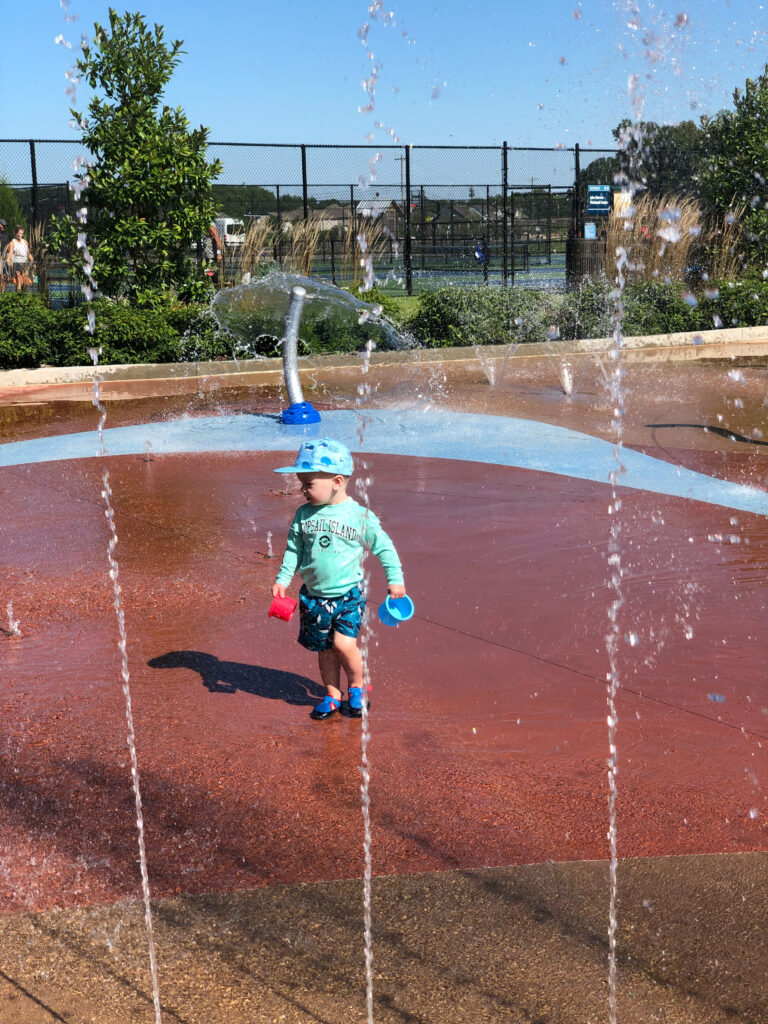 Greensboro Science Center
My best friend (and mother of two toddlers) lives about an hour from me… the only good thing about that is that she can share all of the amazing places she takes her little ones. I am truly so jealous we don't have something similar in Charlotte- this science center is amazing and they continue to make additions to their exhibits every time we visit.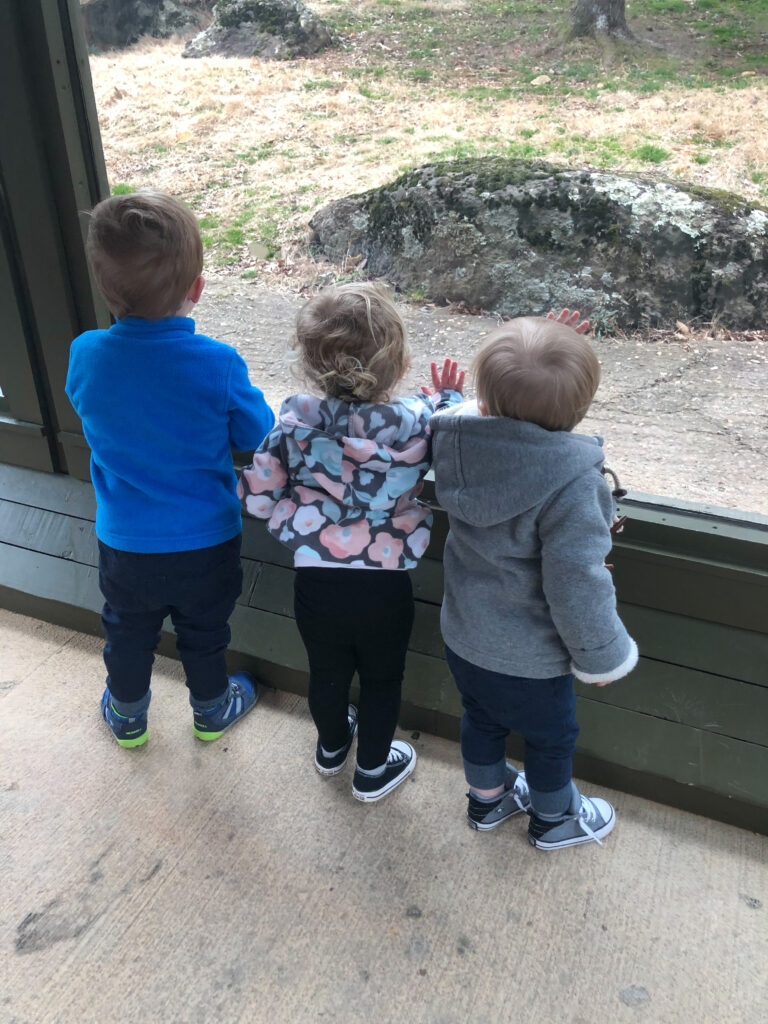 There is a beautiful aquarium as you enter and that leads you to the outdoor section, which is essentially a small zoo. This place is perfect if you want to check out some cool animals without committing to a full day at the zoo.
To end your visit on a super fun note, you can go for a carousel ride- located right next to the same parking lot as the science center.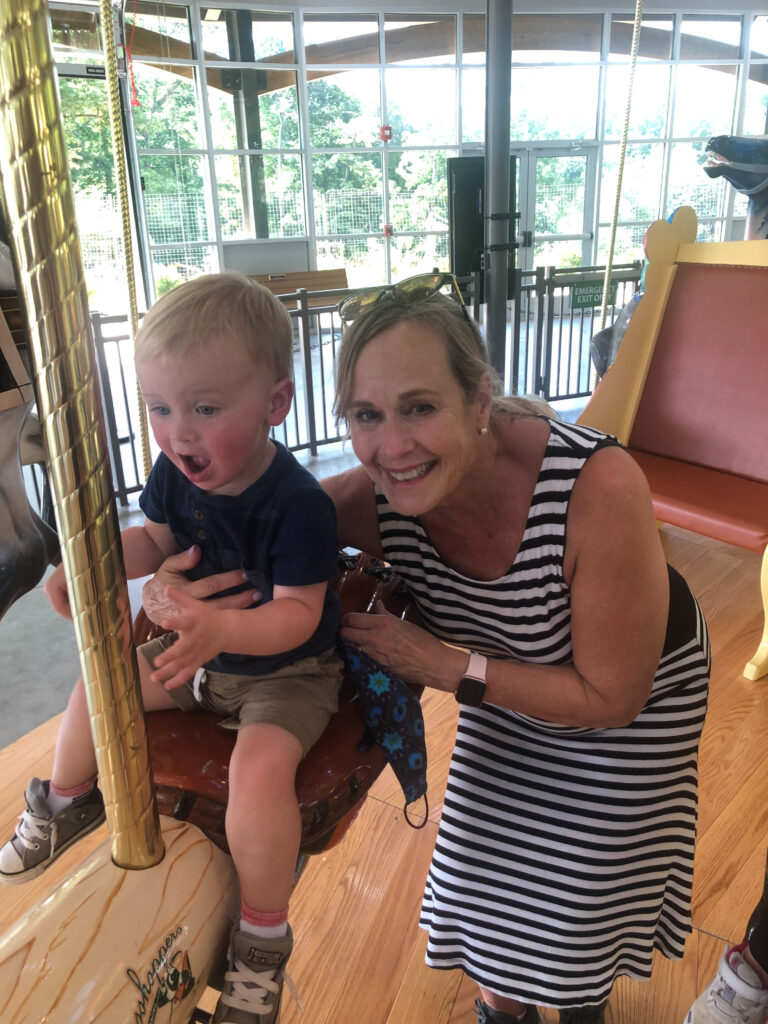 This is a great year round option and is free for kids under 2. I believe masks are mandated for ages 5 and up, but you will spend the bulk of your time outside. This is a museum we definitely plan to visit more this year and it is totally worth the drive.
Dewberry Farm
This is another spot I can thank Megan for sharing with me- she's the best! We booked a mini session last April with the same photographer and I was stunned by this beautiful setting. We were there at peak tulip season and it was absolutely gorgeous. Dewberry Farm is only open to the public for Spring tulip and Summer sunflower picking. While it was amazing to have photos done here, it was also a great space for kids to enjoy. This is a place I want to come back to every year- it's just not something you can find in Charlotte.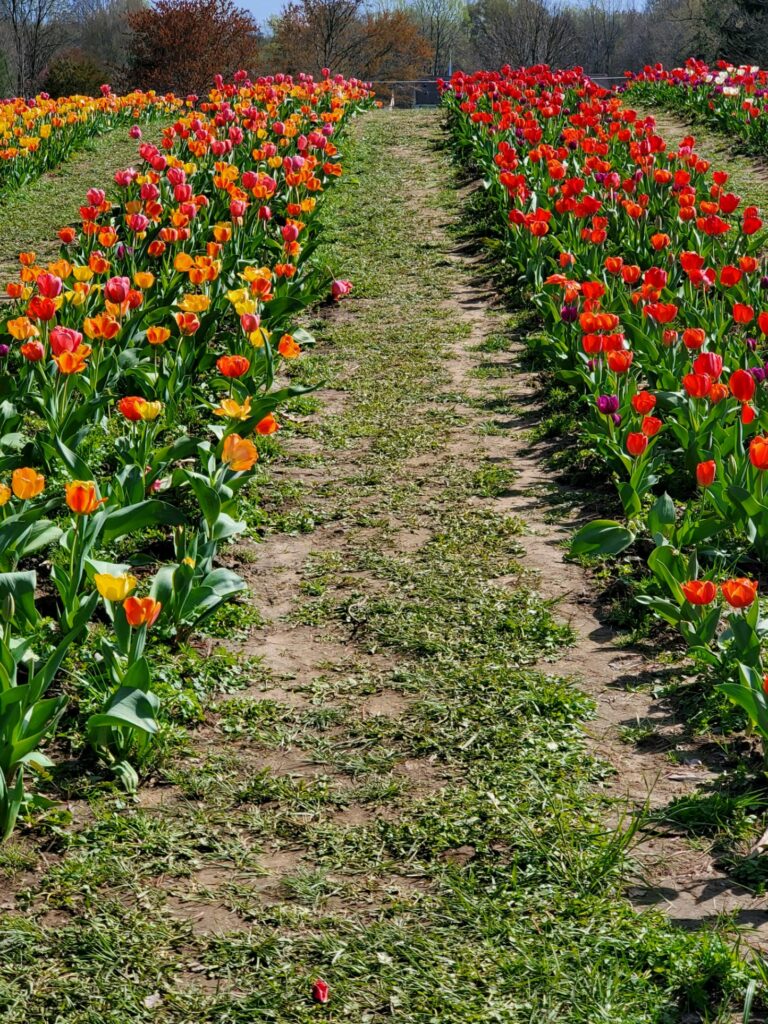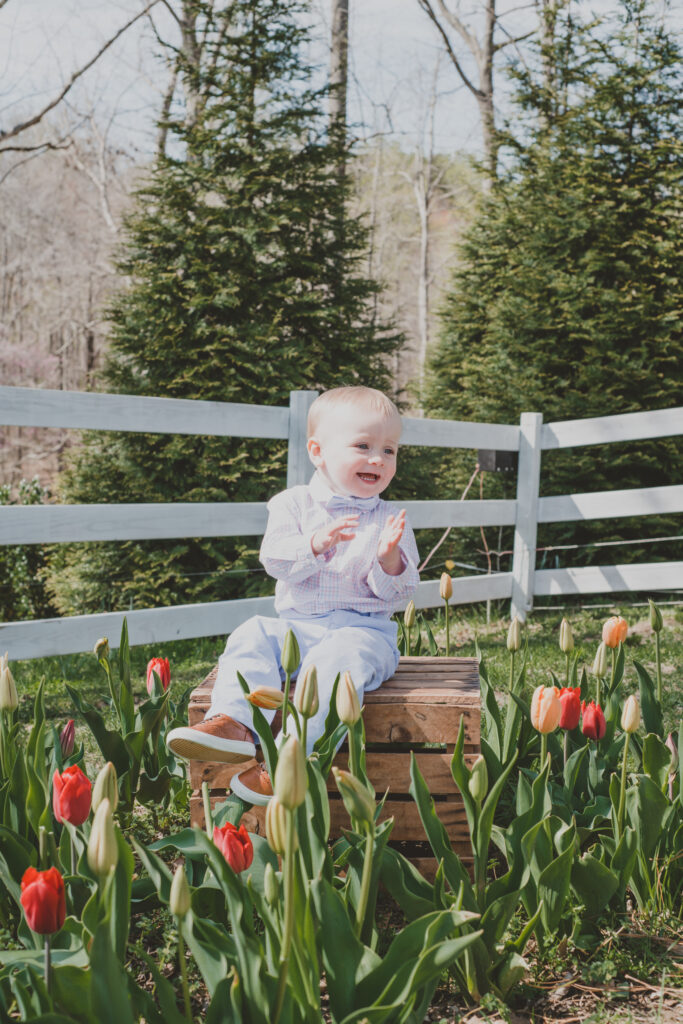 Hope Park
Something I can FULLY appreciate at this stage is a park that was actually created with toddlers in mind. Every park that is close to us feels like an obstacle course death trap right now. I am at my peak helicopter mom status at the park and it's not a role I enjoy at all. But seriously- why is every playground for little ones created so that they can climb to the very top of something tall and then fall down 4 different ways?! I can only cover one spot! I currently enjoy the swings and that's it- period.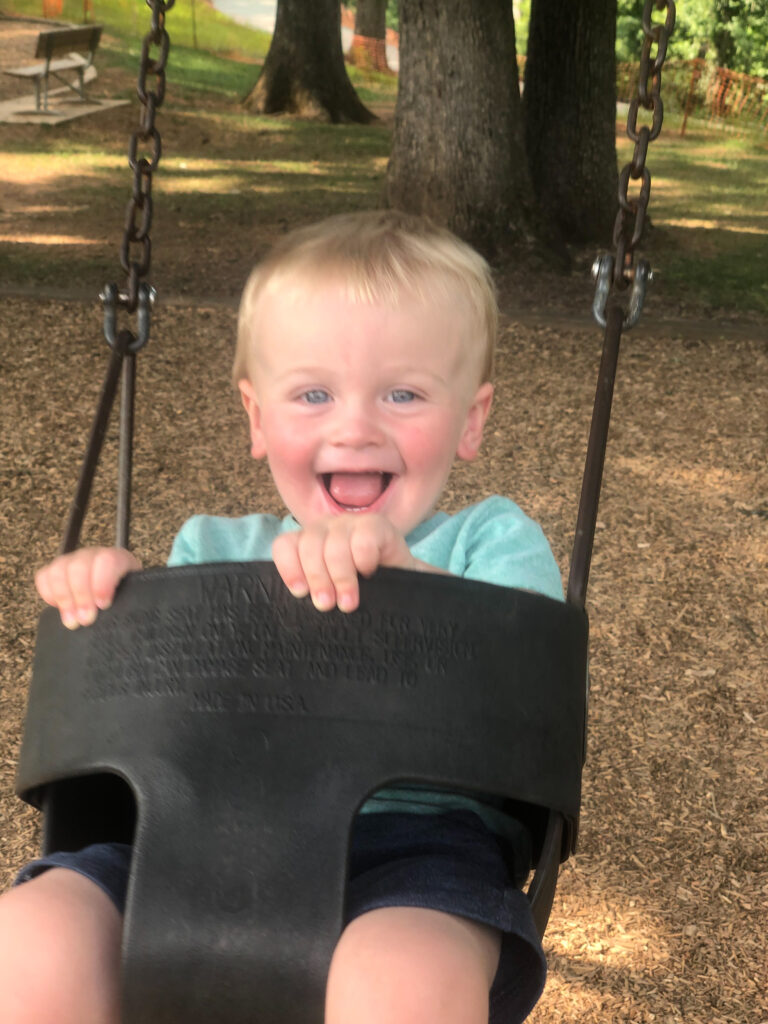 When I searched toddler-friendly parks, I came across Hope Park in Mooresville. To be honest, it's an annoying 30 minute drive down 77 to get there for us so we have only been once. But I can tell you it's a good one worth the drive! The playground is split in half- one side for little kids and the other for big kids- I am all about separating the two. It's full sun, so go early in the summer. There is also a small splash pad on site of you want to add that on to your visit.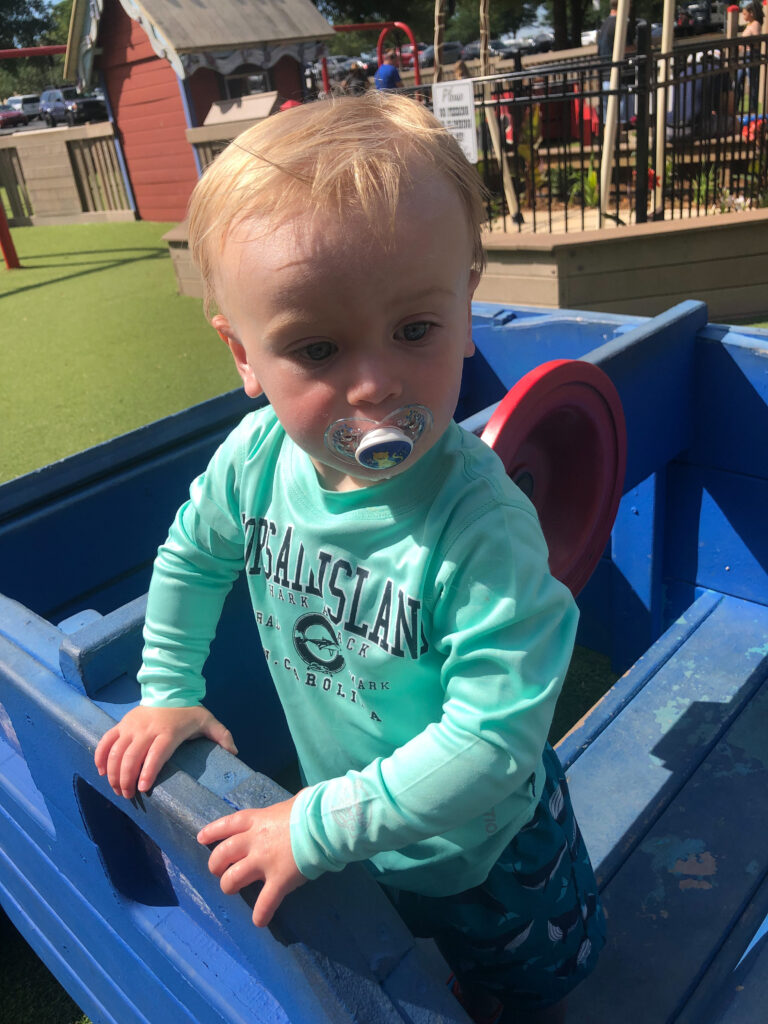 Dan Nicholas Park
We ventured out to Dan Nicholas Park back in October and I have been looking forward to our next visit ever since! It's about a 45 minute drive from Charlotte and most of their attractions open in the Spring. This park includes several playgrounds (one of which was very toddler friendly) and has tons of energy burning activities to choose from.
The main event for us was riding the train! It's a short ride through the woods and it was really fun giving Jacob this new experience.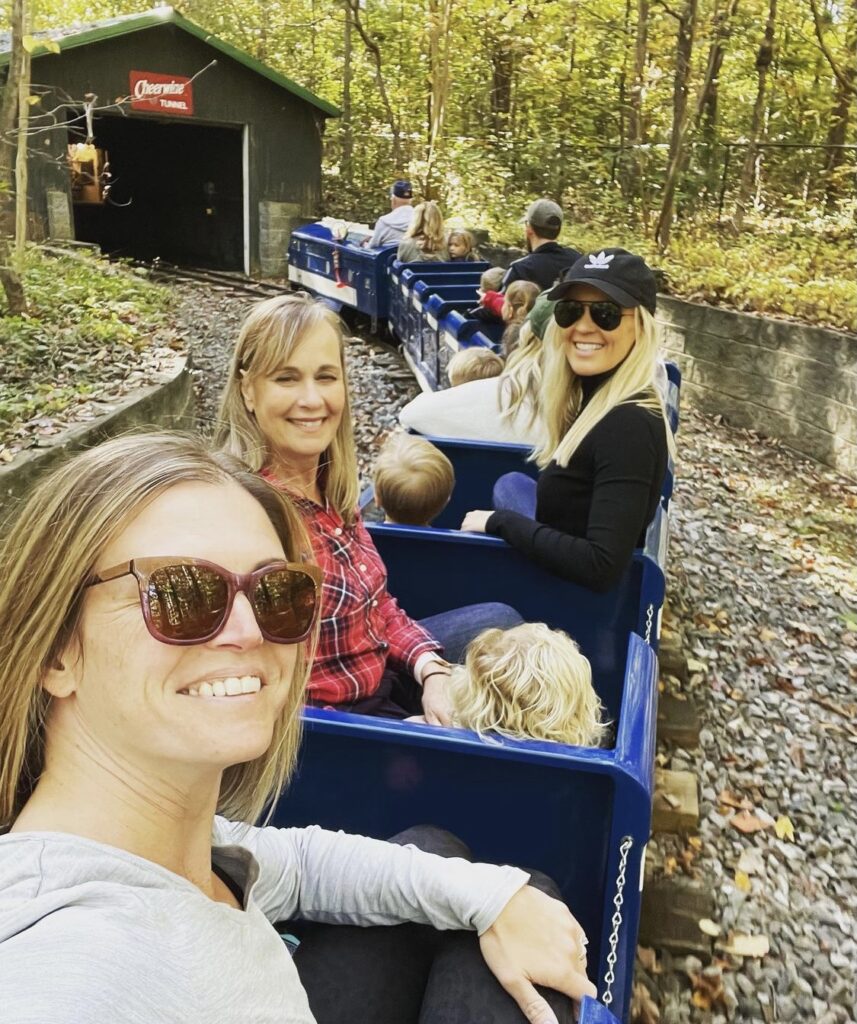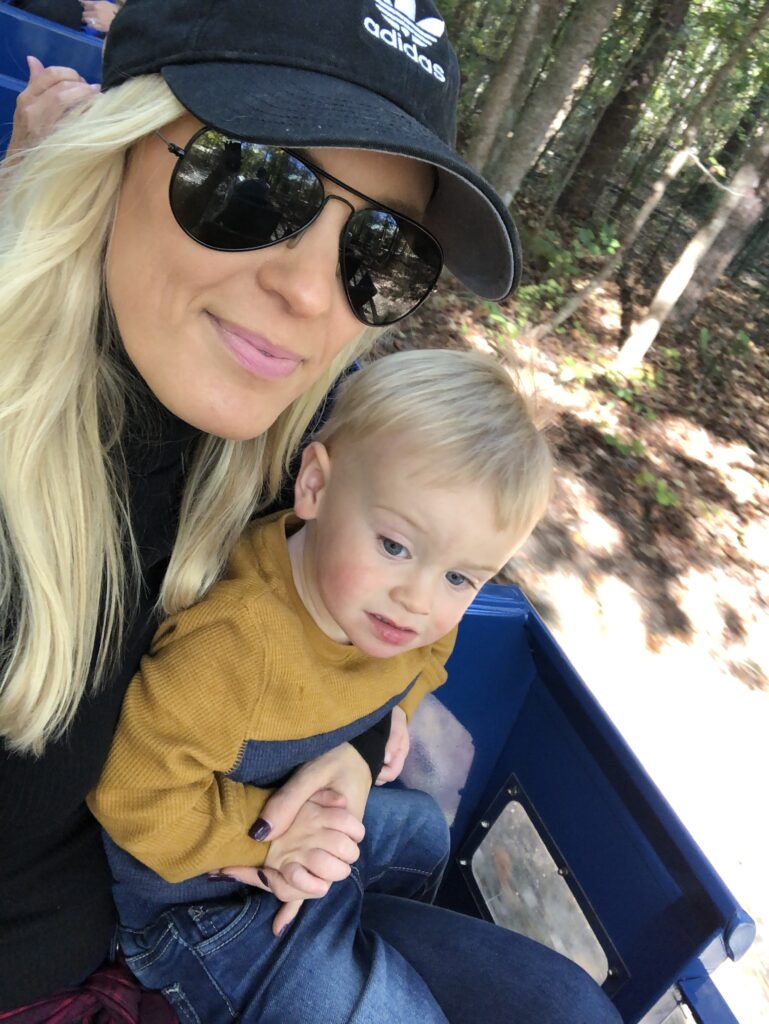 They also have a carousel on site that I do not recommend for toddlers riding on their own. I was not ready for how fast and long that ride was- not sure I have ever held on tighter to my child!! This is a great option for bigger kids- hold on for dear life though.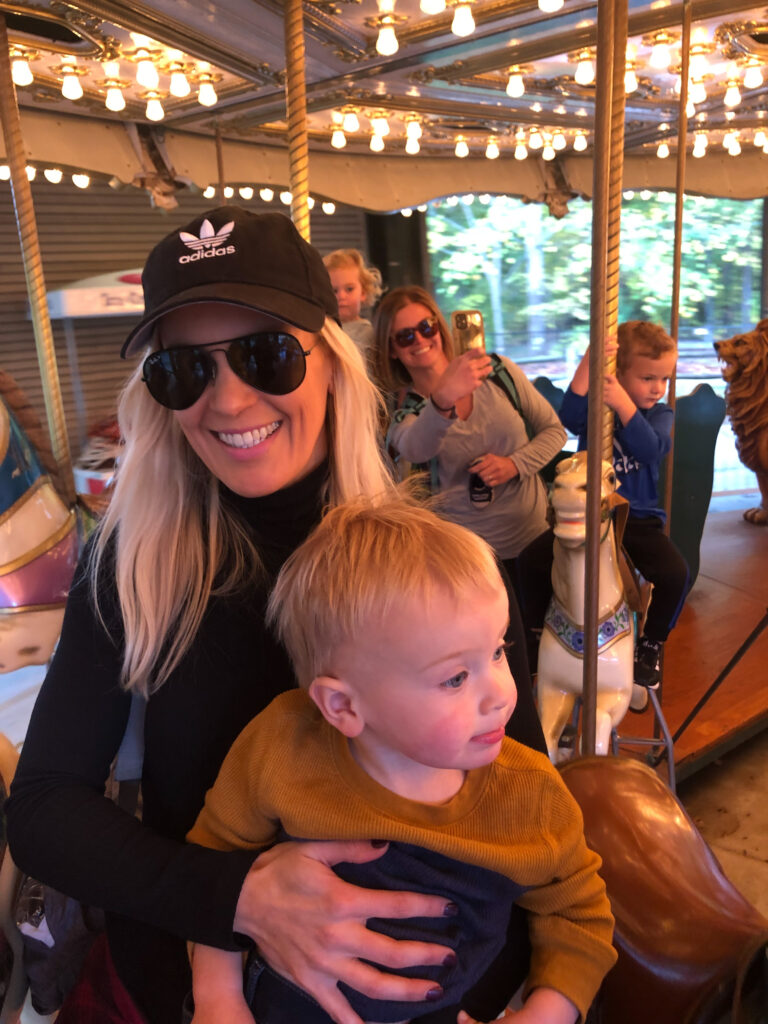 There are several animal exhibits on site, including bears and a bald eagle! We had a meltdown by the time we got here, so I don't remember much else.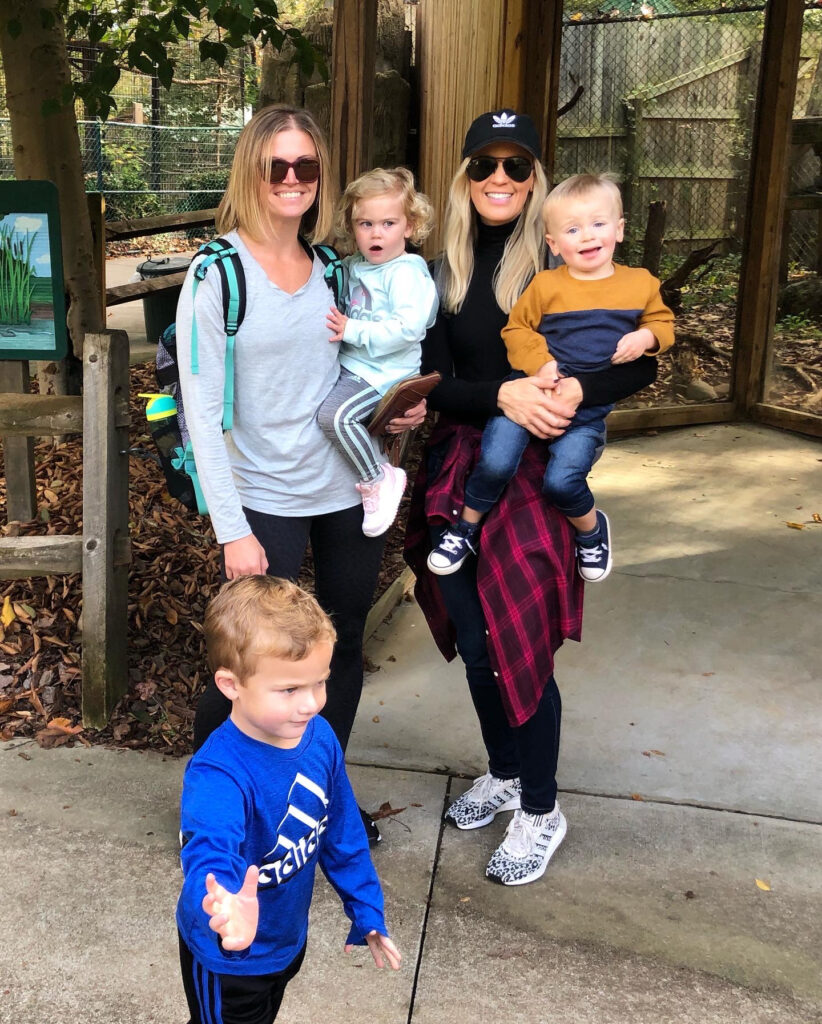 In the summer there are even more options available here, but I think it's going to be a hot minute before I trust Jacob on a paddleboat. You can easily spend a day at this park if you come prepared!
I wish my list of activities was longer, but I am hoping to check out some new spots this year and will report back if they are noteworthy at age 2!
---
---