The Peloton Bike- An Honest Review
Funny story-Joey surprised me with a Peloton bike in December… about 2 days before that awful commercial went viral. You know- the one where the husband got his thin wife a Peloton for Christmas and they showcased her "transformation" over the year… all while she appeared to be painfully seeking her husband's approval. Yikes.
Honestly the timing was hilarious. Telling you that my husband surprised me with this gift when I had delivered a baby barely 2 months before probably makes him sound terrible. But after almost 20 years together, Joey knows me very well and this was seriously the best gift ever.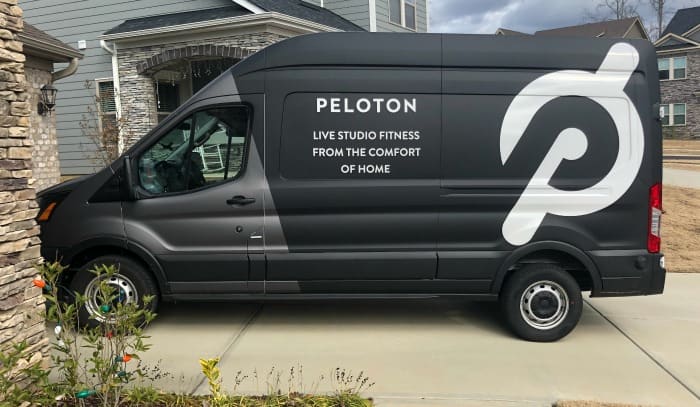 We have had the bike for about 9 months now and I wanted to share my insight on owning one.
Pros
The options- I love the number of options available on the bike. You can choose the time, music, instructor & type of class (intervals, tabata, low impact, etc.). Typically I stick with a 30 minute hip hop ride…for me that's just the right amount of time and the music basically makes it a party.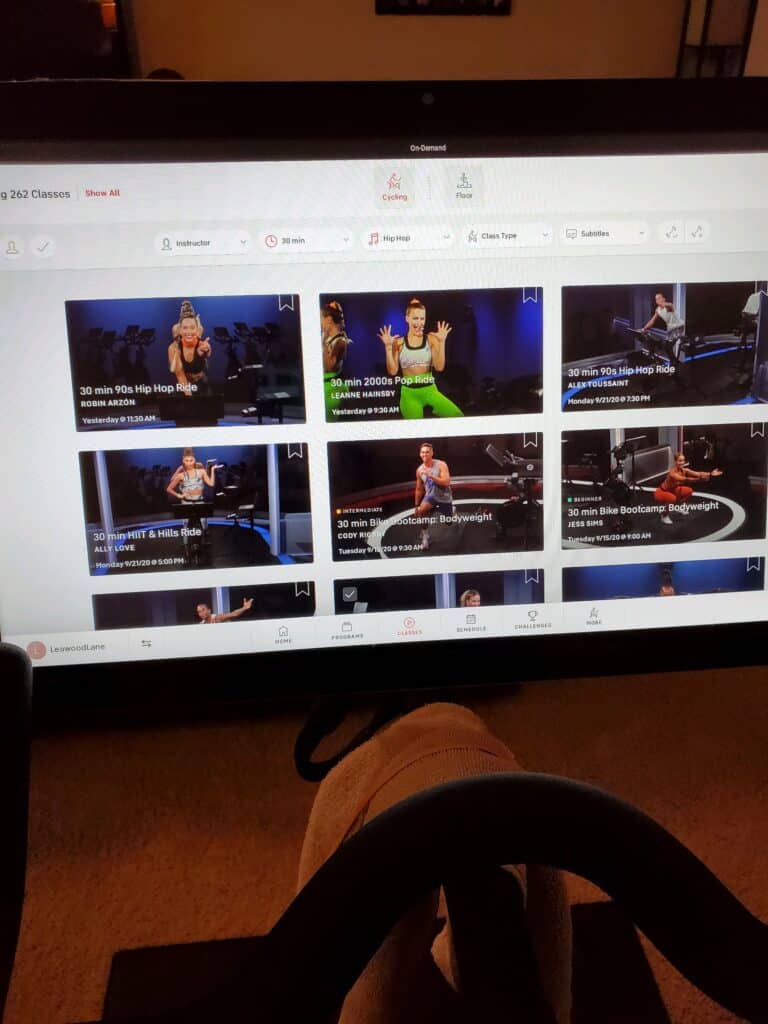 On demand classes– I have taken zero live classes. I love that it's an option, but I'm all about the on demand classes. These days I just can't set my workouts to be at a specific time because babies don't really care if you're signed up for a 6am ride. There are so many classes you can choose from and they are very easy to filter through once you're on the bike.
The workout– Oh my goodness… if you follow the numbers the instructors push you to do, you will absolutely sweat your tail off. It is hard. But the great thing is that you control every ride so you can scale back how fast you go (the cadence) or how hard it is to pedal (the resistance).
The time– A large reason why Joey got this for me was due to time. Going back to work, I wasn't going to have enough time to drive to the gym before work and working out was everything for my sanity. It is amazing to simply walk upstairs and get right to it.
The app– When you purchase the Peloton, you obviously get the app along with it. The app is FULL of an assortment of classes- running, bootcamp, stretching, walking, cardio, meditation, yoga, strength training… pretty much everything! I have used the app many times for strength workouts in the garage. They are just as easy as the rides to filter. A lot of times I'll do a 5 minute cool down stretch after my ride and do 10 minutes of core to finish my workout for the day. The options are endless!
The instructors- Just like any fitness class you take, there are certain instructors that click with you. Here are my top 3:
Alex Touissant- He gives all the tough love and pushes you to your limit. His hip hop classes are basically the workout equivalent of going to the club.
Kendall Toole- This girl can put you through a really tough ride, all while giving you lots of positive motivation & self talk.
Ally Love- There's truly nothing not to love about her. She somehow smiles all the way through and her HIIT & Hills rides are my favorite.
Cons
Price– It's not cheap so you want to make sure you're really into it for the long haul before you invest. Once you actually buy the bike, you continue to pay $39 monthly for access to all of the classes. For most people it evens out eventually because this completely replaces their gym membership, but it's a hefty cost up front. One positive aspect here is that you can create multiple accounts on the bike, which is great for families with several people that want to ride.
Other Things to Know…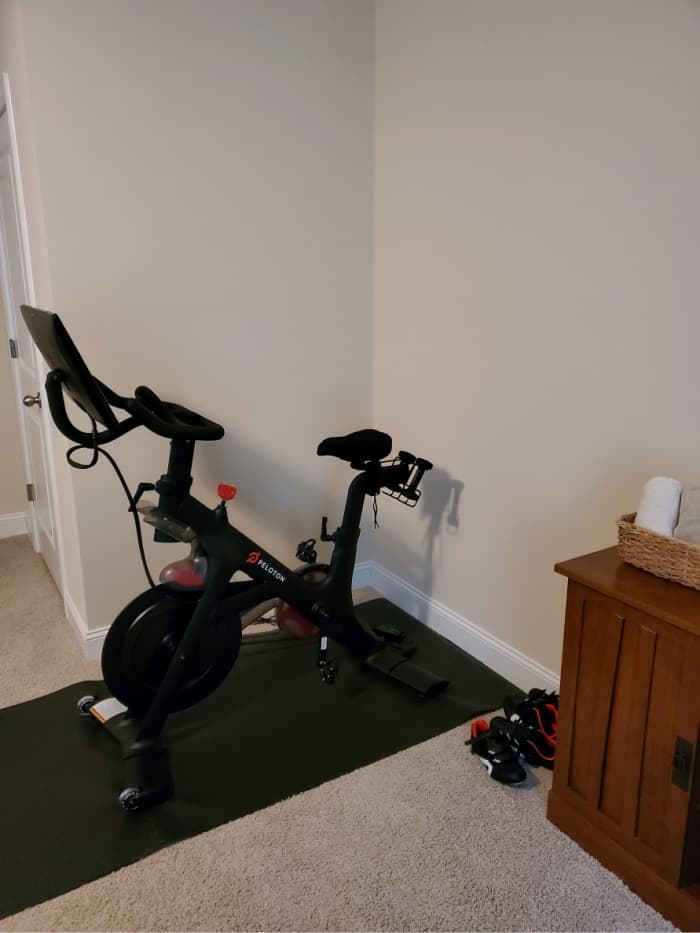 It doesn't take up a lot of space.
The cycling shoes matter. I have taken classes on a Peloton bike at a hotel gym in regular shoes. It can be done, but you're workout isn't going to be as a good.
Speaking of the cycling shoes- we both have a pair and they are true to size.
The cycling classes are very intense. For me, I don't like to do that type of cardio every day so I still mix up my workouts.
The first couple of times you clip in and out with your shoes, you will feel ridiculous. It takes a few tries to get comfortable with it.
If you are competitive or pushed by your own statistics, they've got you covered. You can keep up with your rank on the "Leaderboard" throughout the class or you can just swipe it away if you're not into that.
They have added a pause option which is INCREDIBLE for all, but especially if you have kids.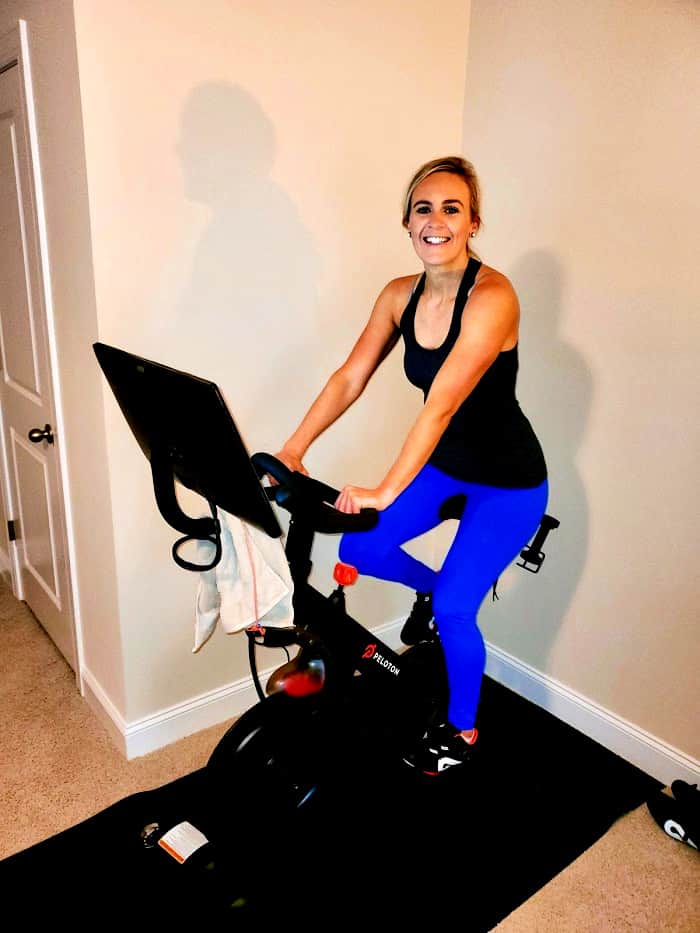 I've been really happy with this investment and love incorporating it into my weekly workouts. If you want to follow me, I'm LeawoodLane on the Peloton app!
---
---