Trader Joe's Favorites
Anyone that is a regular at Trader Joe's has their own must-have list. Even though it's not close to us, we have been driving out of our way to shop there for years. It actually blows my mind that the Lake Norman area doesn't have one- hopefully that will change someday! There's just so much good stuff you can't get at a regular grocery store… and also great prices.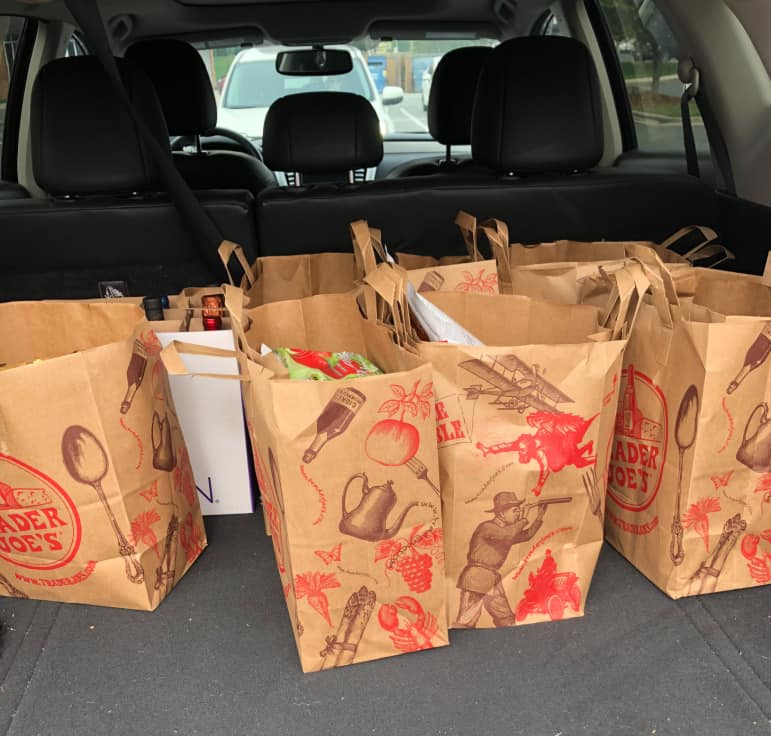 Here are the Trader Joe's favorites in our household…
Healthy Stuff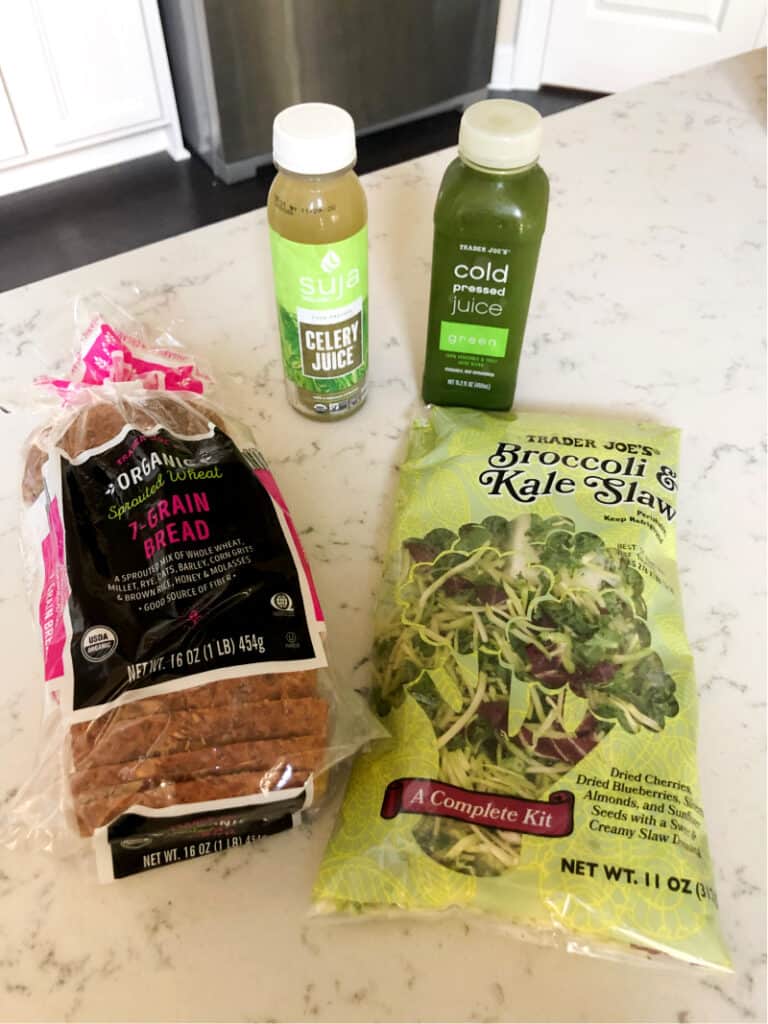 Organic Sprouted Grain Bread– This is the tastiest, healthiest bread there is… 80 calories, 4 grams of protein & 1 gram of sugar.
Suja celery juice– We are by no means into the celery juice craze, but we like to have one here and there. They are $1 cheaper at Trader Joe's than anywhere else.
Cold Pressed Green Juice– If you are interested in a green juice that is half the price of fresh pressed juice, has only has 11 grams of sugar & doesn't taste like creek water… this is it. I like this one over ice.
Broccoli & Kale Salad- Personally, I do not enjoy making salads at home. To make them taste good, they require too many ingredients that will go bad by the time I can eat them all. This salad kit is the best one out there. I always keep a few bags on hand to throw together with dinner. I am not a creamy dressing fan, so I like to add my own lemon vinaigrette.
Snacks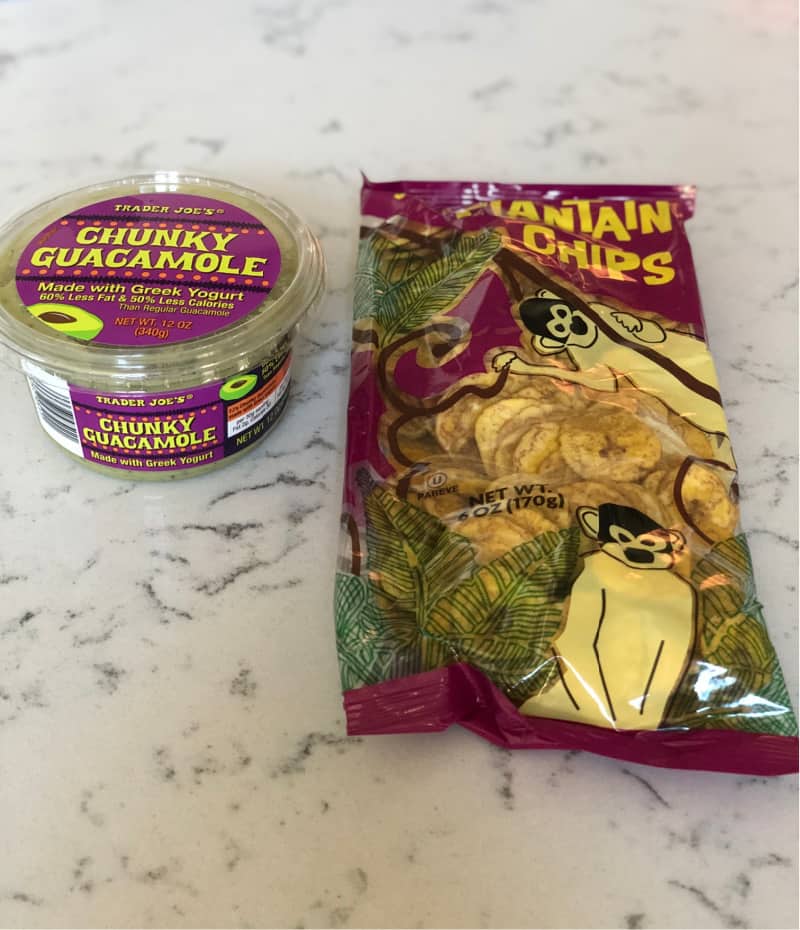 Plantain Chips & Chunky Guacamole- These two things combined are my favorite snack ever… I'm pretty sure it's one of Joey's too. We always have several bags of these chips on hand. When we aren't eating this guacamole with plantain chips, we love to add it to our toast when we make eggs.
Breakfast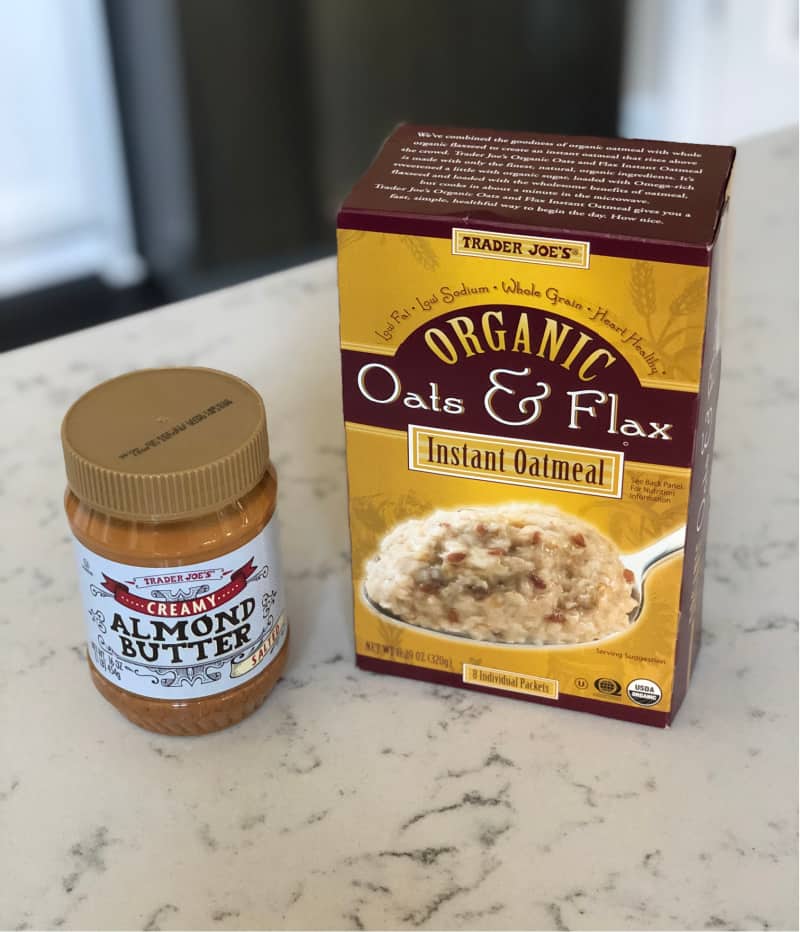 Creamy Almond Butter & Organic Oatmeal– Once I started adding almond butter to my oatmeal, I never looked back. It's so much tastier and satisfying with some healthy fats added in. I eat this almond butter at least once/day… either straight out of the jar, on toast, or in my oatmeal. You can buy it for half the price at Trader Joes' than you can in most grocery stores.
Random Things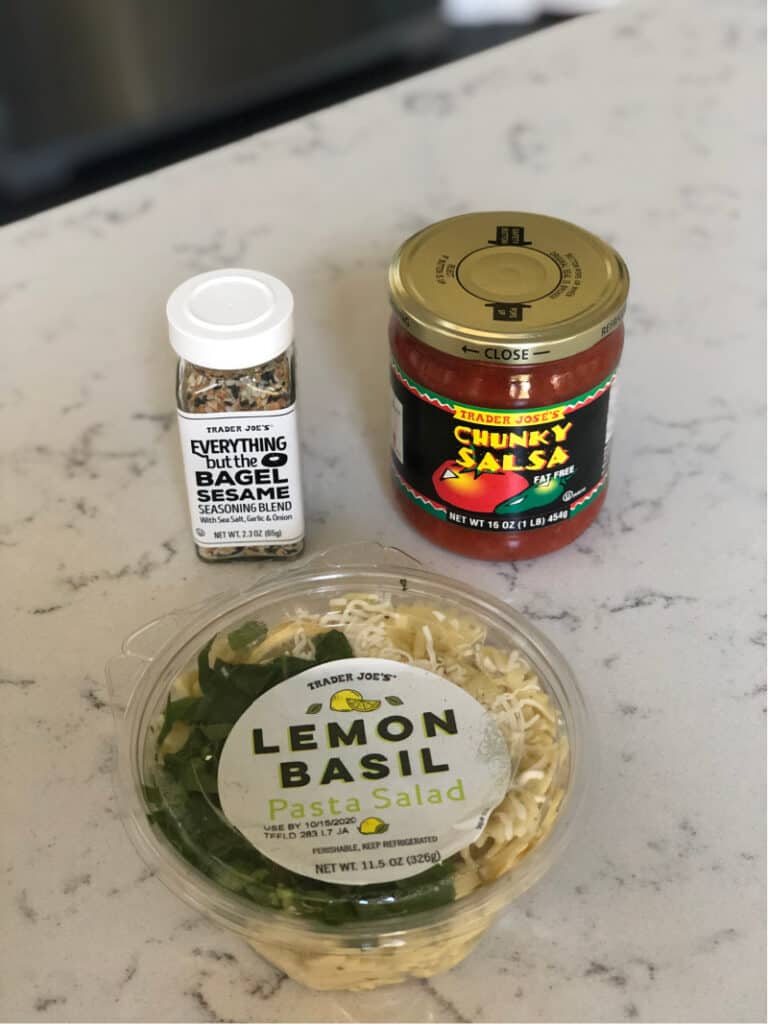 Everything but the Bagel Seasoning– I always add this to my guacamole toast and egg bake. Life wouldn't be the same without it
Chunky Salsa– Any time I buy a different salsa, I get disappointed. I really like the thicker consistency of this one. I always use this when I make crockpot salsa chicken, but we are also a big fan of chips/dip.
Lemon Basil Pasta Salad– This was a pregnancy obsession for me that never went away. I am normally not big on pasta, but this one is not heavy at all. The lemon, basil, and just the right amount of cheese mixed in make it just right.
Frozen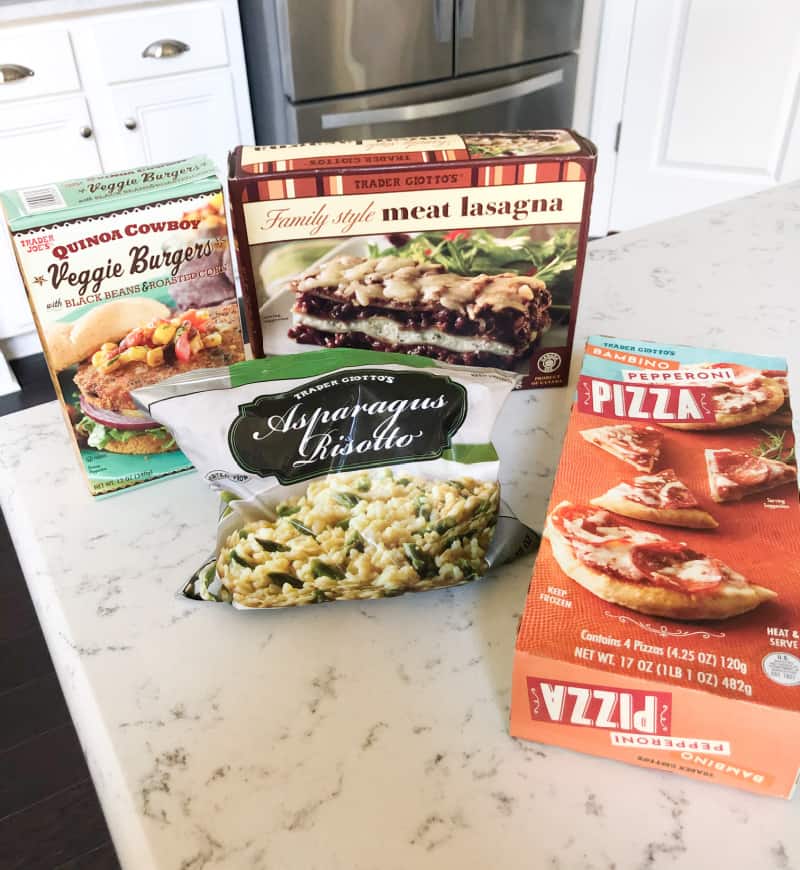 Veggie Burgers– Normally I think veggie burgers are gross, but the roasted corn and black bean really make them tasty. These are great when I only have a minute to throw something in the toaster oven.
Asparagus Risotto– I don't know about you, but I've only ever had risotto at a fancy restaurant. This makes the perfect side dish when you are trying to make a quick dinner.
Lasagna– I'd love to say that I make everything homemade, but I don't and never will. When I don't feel like cooking, this is the perfect thing to grab from the freezer…. I just have to remember that it takes over an hour to cook.
Bambino Pepperoni Pizza– We are not above frozen pizza and absolutely love these things. We make our pizzas well done, which actually looks a lot more appetizing than they do on the box. I love that they are little personal pizzas, so there's at least some easy portion control.
Treats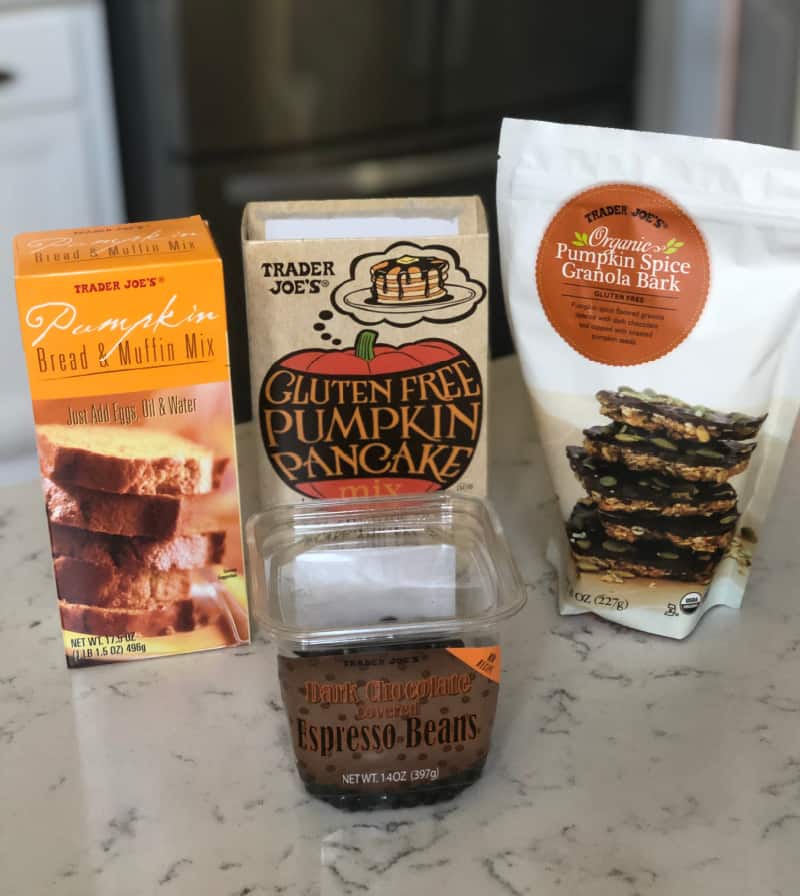 Pumpkin Bread Mix– I have been making these muffins to share with my coworkers for years. I impatiently await their arrival every September and stock my shelves so that we have enough to last all year…. because sometimes you need a pumpkin muffin in July. They are SO good… ask anyone I worked with. They usually keep a good stock of these until November.
Gluten Free Pumpkin Pancake Mix- I'm skeptical of most gluten free foods, but I decided to try this after seeing someone rave about them on Instagram. I am impressed and Jacob likes them too. They are low in sugar so really these aren't even a treat. It must be a popular item because on my last two trips they didn't have any on the shelves. Lesson learned for next year!
Pumpkin Spice Granola Bark– This is another seasonal item that we love. This is probably the only bag I'll be able to snag before it's gone-why does the Fall stuff go so fast?!
Dark Chocolate Espresso Beans– Pretty much anything with espresso appeals to me. I love grabbing a few of these after lunch for just the right amount of a sweet treat.
I would love to hear from you! What are your favorite items at Trader Joe's?!
---
---