Family Pictures- A Timeline
Hey friends! I hope you are having a great week! It's so beautiful in Charlotte right now and I'm loving all the Spring Break pics on my feed!
I'm writing today to talk about something we all seem to pretend to love…. family pictures. 100% of moms agreed on my Instagram poll that this day stresses them out! It's one of those things you do because you have to document your kids growing up. And it's nice to have something to put on your walls or send on a Christmas card that's not a blurry picture of your child in their pajamas. But OMG it is not a good time making it happen.
The stress of this day has nothing to do with the photographer. We have done family pictures three times now and every photographer has been so great. It's literally everything else involved.
Just for fun, I thought I'd share a timeline of our most recent family photo session. Maybe you can relate…
Early March– My best friend texts me that her photographer announced Spring mini sessions in a nearby tulip field. I immediately message her to lock in a spot for the afternoon of April 3rd. I've seen her pictures here and I have to have them. I'm so pumped!
Most of March– Do absolutely nothing to prepare. It's hard to order clothes right now anyways…who knows what the weather is going to be like. It's Spring in NC- it could be 45 degrees or 85 degrees. I'll figure it out later.
March 28th- Ughhhh I have no clue what we are going to wear next week. Get overwhelmed at the thought of shopping online or in person, so I do nothing about it.
March 29th– Tell husband we have family pictures on Saturday. He groans.
April 1st– Ughhhh, this is literally in two days. Why have I done nothing?! Jacob's hair is growing over his ears… let me schedule a hair appointment… oh, they are totally booked! I guess we will do it tomorrow.
April 2nd- Ok, I have waited until the absolute last minute to figure this out. I must do something… I'm taking Jacob to Mimi and suffering through a trip to Concord Mills until I find something for all of us to wear. I'm able to make an online appointment for Jacob's haircut at 3:30 at Snip Its Birkdale. It's go time!
Start at Janie & Jack and want to buy the whole store. Why is everything so expensive?! I thought this was an outlet mall. Decide to keep shopping for him to see my options.
Go to Banana Republic. Take a picture of every pant description and send them to husband. We go back and forth about size and color. He will surely have a shade of blue in his closet that will work. Gosh I hope these pants fit right.
Walk into every single store that sells women's clothes and find absolutely nothing like what I'm looking for…. a light pink solid dress with sleeves (the high tomorrow is only 60). Find a cute Easter dress at Ann Taylor Loft… at least that day is figured out. Ugh, what am I going to wear tomorrow?!
Stop at Old Navy for Jacob… why do they have 75 options for little girls and nothing for boys? Find a pair of shoes for him and make it through their line.
Go to Gymboree- Get a dressy outfit for him and some shoes. It's cute, but not what I want for Spring pictures. I'll hold onto it as a back-up. Why are these people behind me in line standing on top of me without a mask? How long have we been doing this now?! Why did I come here on Good Friday?!?!
Go to Children's Place- They are only selling shorts and t-shirts. The amount that I hate shopping has caught up with me. I must get out of here immediately.
Back at Janie & Jack- Ok, they win. I will absolutely buy from this store so I can go. Put together the cutest outfit of all time. The nice saleswoman points out the matching bow tie and I cannot even deal. I don't even feel bad about the price because Jacob has basically lived in pajamas and hand me downs for 17 months.
Leave the mall ASAP. At least the boys are done! Tell myself I'll go out early tomorrow and find something. Ughhhhhh.
Decide to drive across the street to Kohl's. They have dresses, right? Immediately regret my decision and walk right out.
I have a little time before I need to get Jacob. I decide to stop to get a manicure. Every woman in Harrisburg is doing the same thing. Leave with my ugly nails and notice a boutique next door. See the perfect shade of pink on a long dress. It doesn't have sleeves and I can't try it on, but this should work. I'll just be cold- whatever. Check out and rejoice that this purchase is done.
Pick up Jacob and drive across town to Birkdale to be on time for our 3:30 appointment. Check in and am told they aren't ready… they will text me. Slightly confused about the purpose of an appointment, but am willing to be flexible because it's clearly a busy day everywhere. Walk around Birkdale for 35 minutes with my 30lb child… I don't even have the stroller. Thank goodness I lift weights. Debate buying a pie at the new shop, but have no extra hands.
Finally go back to Snip Its and wait another 10 minutes for anyone to open the door. They take our temperature and inform me that there's only 2 people in front of me! ARE YOU KIDDING ME. Chili's could hold a reservation better than this. Confirm that appointments are meaningless here and leave… I am done entertaining a 17 month old at a shopping center. Receive a text at 4:40pm that they are ready for us. LOL forever- we are home. Never again, Snip its.
April 3rd– It's picture day! As soon as Great Clips opens I make an online appointment. Go ASAP and wait for 10 minutes. Jacob cries the entire duration of the haircut. He doesn't stop moving. The woman was so kind & patient… totally not her fault that this cut is butchered. Oh well, at least it's not hanging over his ears anymore.
Celebrate that Jacob goes down easily for his nap so I can pull myself together. I guess I should try this dress on… it fits! I hope that cute outfit I got him does too!
It's 1:30 and Jacob is still napping. It has been 2 hours… this never happens. We need to leave by 2:00 at the latest… this place is an hour and 20 minutes away.
Make the painful decision to wake him at 1:40. He's mad and won't eat. Even more mad when we put him in a dressy onesie and pants. It fits and it's the cutest thing ever! Yay! We all have clothes that match!
At 1:55 we're off! I seriously can't believe I booked out of town photos. This was a really a dumb decision. Thankful that my husband is not complaining about how crazy this is. I entertain Jacob in the backseat the whole way- the only way to travel with him. He eats in the car and magically nothing spills on his clothes. I worry the entire drive about what his behavior will be like for these pictures. These are unpredictable times.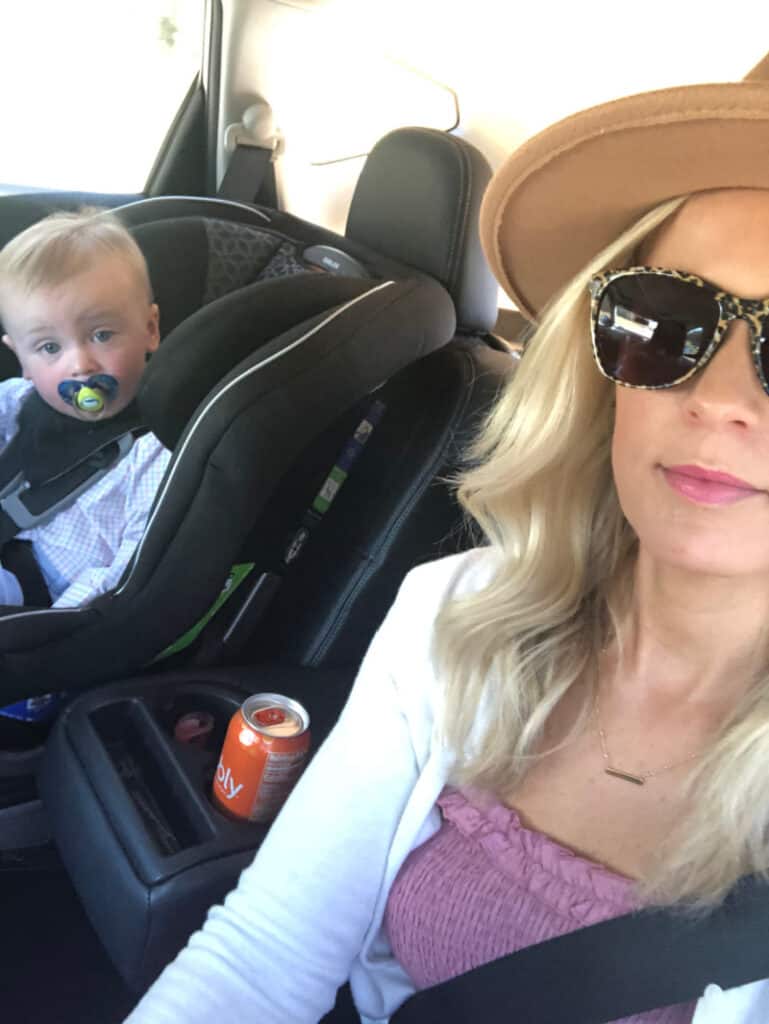 At 3:15 we pull into the farm and see the tulip fields… we are stunned. This place is incredibly beautiful. We both express that this was worth the drive. The photographer is so nice and easygoing. Jacob is 90% amazing during our 20 minute session.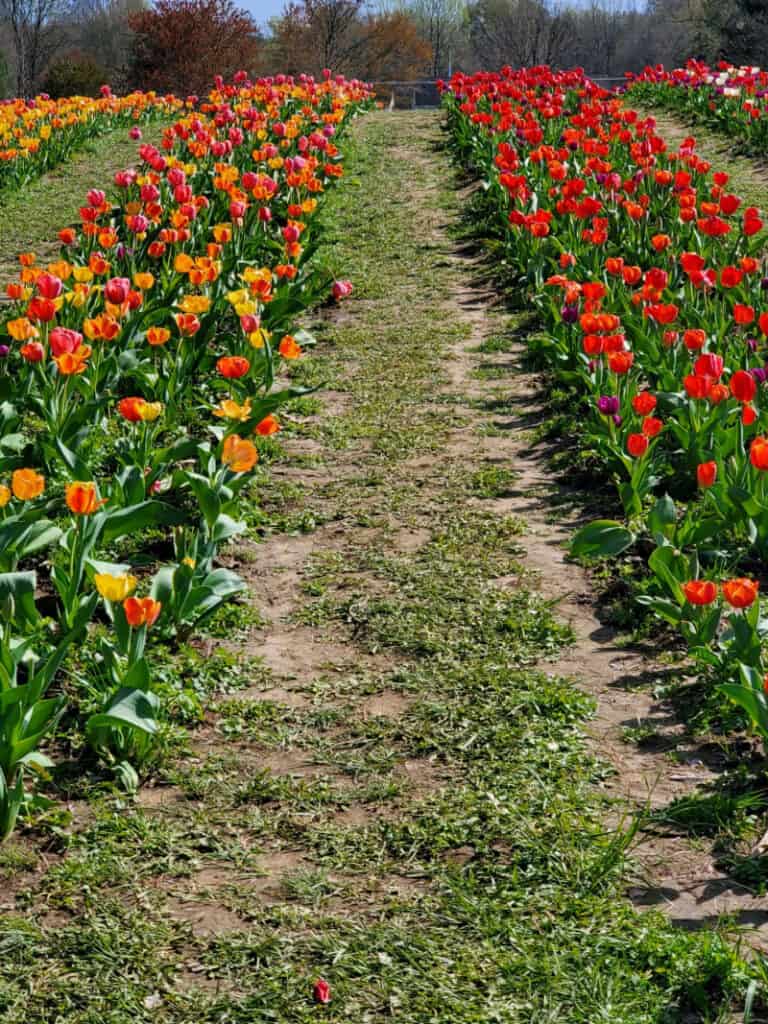 My heart melts over every precious shot she gets of him! We survived! All the trouble getting ready for this day was worth it. Let's for sure do this again in the Fall!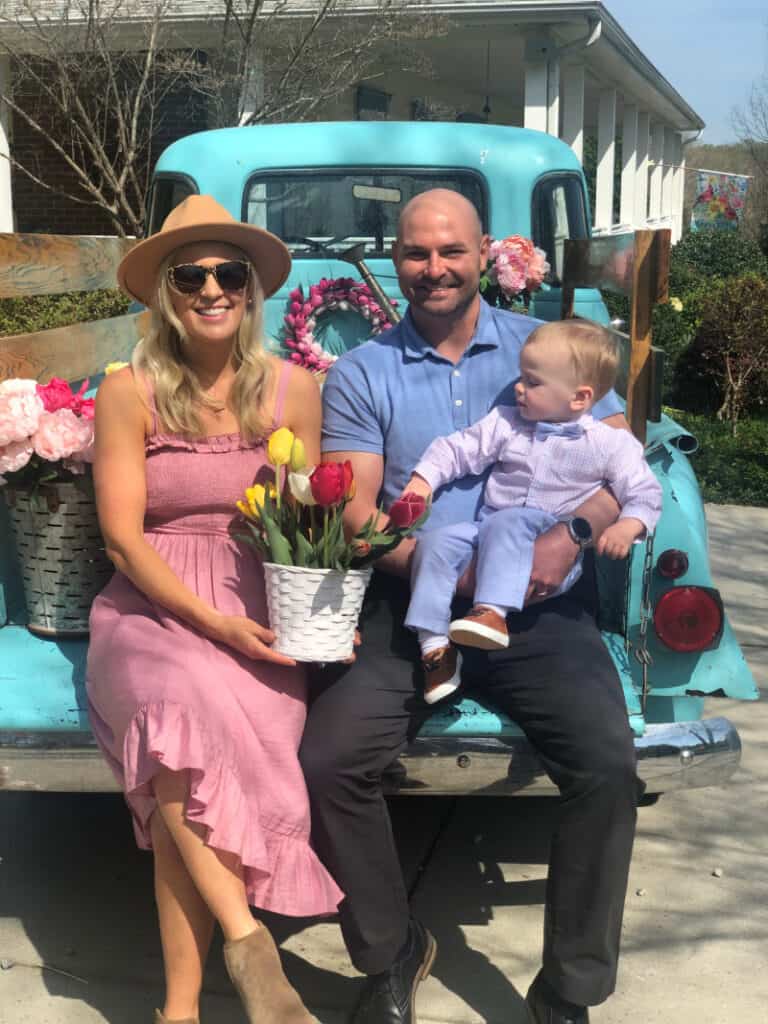 ---
---